Waste management company headquartered in Piraeus, Greece with offices & operations also in Hamburg and Gibraltar, HEC undertakes the collection, transport and treatment of oily waste and residues from vessels.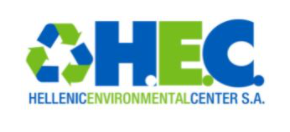 HEC encompasses a visionary strategy based on corporate growth and reliable services, responding proactively and efficiently to the needs of its clients. We invest constantly in cutting-edge technology, breakthrough research and development, human resources' development and operations management. Responding to the increasing demands of environmental legislation and industry needs, we are distinguished by competitors and appraised from clients and partners, for creating a powerful shield for the environment.
Our vision, principles and strategic core values are:
Environment is one of the most significant pillars of the global economy; a sensitive sector in which only companies with values, continuity and integrity can last with success.
We think ahead aiming not only to be satisfactory for the present, but also being proactive for the future, while developing all the necessary tools and know-how so as to determine a better prospect.
Building a legacy in the environmental sector as a synonym of setting a paradigm for the industry; for other companies; for the political and economic system; as well as showcasing the ecological economy as a leading force of sustainability for the future.
ADDRESS
10 Akti Kondili
Piraeus
185 45
Email info@hec.gr