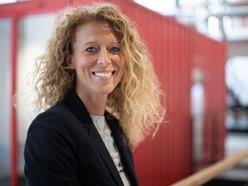 Head of Sustainability, Kalmar
Mette Kjems Bærentzen is responsible for the development of Kalmar's portfolio of Reachstackers and Empty Container Handlers.
Mette has worked at Kalmar for three years focusing on a broad scope of development initiatives of counterbalanced container handlers including digitalisation, electrification and automation. She has 20 years of experience in both technical and digital product development as well as business development. Mette has a Master of Engineering degree (M. Eng) from Technical University of Denmark (DTU) and a Bachelor of International Marketing from Copenhagen Business School.