Register now to save 20% and to join in the conversation. With workshops, working groups, role-play on a port development meeting and inspirational keynote speakers, this year's GreenPort programmes will equip and inspire participants to work with partners in the port on sustainability issues.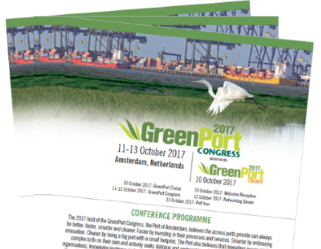 Entitled 'Creating Partnerships for sustainable development', this year's programmes are designed to be involving and interactive for all participants and will equip participants with knowledge and practical information on reducing emissions and footprints together with sustainability recommendations.
GreenPort Congress presentations will include:
Port-City Integration:
Project Greenlane: Leonie van der Beuken, Cluster Manager Environment and Spatial Planning, Port of Amsterdam
Port-City Relations in a changing world of production and transport: Malte Siegert, head of Environmental Policy, NABU
Working Groups: Challenges for ports and terminals:
Sustainability reporting:
Materiality Assessment and how to prioritise the relevant 'material' issues for action in ports and terminals: Claire Bryant, Managing Director, Future Proof Solutions & Dickon Howell, Managing Director, Howell Marine Consulting
Sustainability Reporting for Ports: Eric de Deckere, Technisch Manager Milieu, Port of Antwerp and Secretary of IAPH-PIANC WG174 'Sustainability Reporting for Ports'
UN Sustainable Development Goals (SDGs) and the Port (Maritime Sector): Jason Sprott, Sprott Planning & Environment Pty and Corinne Namblard,
UN Senior PPP Expert. Geneva. INFRA & P.E Advisory France
Creating the port of the future:
Maritime Emissions Portal: creating visibility & accountability: Kris Fumberger, Sustainability Manager, RightShip
NEPTUNES: Noise Exploration Program To Understand Noise Emitted by Seagoing ships: Resianne Dekker, Manager Policy & Planning, Environmental Management, Port of Rotterdam
Port Reception Facilities: Sotiris Raptis, Senior Advisor Environment and Safety, EcoPorts Coordinator
Translating environmental data into operational value: Chaim Kolominskas, General Manager - Europe, EnviroSuite
Role play: Public stakeholder meeting: Port expansion and development
Malte Siegert, NABU, Chris Woodridge, University of Cardiff, Charles Haine, Technical Director, Maritime Environmental, sustainability & climate risk solutions, WSP Parsons Brinckerhoff, Rosa Mari Darbra, Barcelona University, Nicola Jenkins-Graham, Associate Director (Environment, Quality, Health & Safety), Idom Merebrook. Gun Rudeberg, Legal Counsel and Head of Environmental Affairs, Ports of Stockholm
Representing port authorities, terminal operator, NGOs, local community, CSR advisor and other stakeholders, the statements, arguments and propositions will be based on the principles of stakeholder involvement and the ideals of sustainable development of a port. The participants will take on opposing roles to their current job function with the aim of giving delegates the opportunity to interact and gain experience of the decision-making process involved in the sustainable development of a port. At the end of this 'public meeting', the Congress participants/local stakeholders will vote on the key issues and the outcomes will be discussed.
Book your place now to save 20% with the early bird rate.
Members of ESPO, ECOPORTS and FEPORTs qualify for special rates!
For further information contact the Events team on +44 1329 825335 or email congress@greenport.com.
Follow the event on Twitter @GPCongress