The international port community will come together in Venice from 11-14 October 2016 for the packed conference including discussion panels, working groups and in-depth plenary sessions, with welcome from the President of Venice Port Authority, Paolo Costa.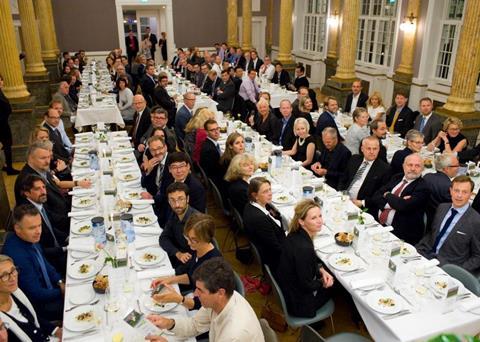 As well being highly informative, the GreenPort events will facilitate multiple networking opportunities, not least of which will be at the welcome reception, gala dinner and port tour.
The full programme is available here and the early bird rate is available for a very limited time only – book today to save 20%.
Highlights of the packed three-day programme include:
Port infrastructure for alternative fuels and maritime transport:
Regulatory framework for LNG infrastructures; risk assessment and mitigation measures; authorizations and permitting; market analysis and engineering studies; financial instruments to support port installations; operational skills and training needs
Chairman: Mr. Mario Dogliani, Head of R&D RINA Services
Speakers: Ms. Eva Perez, Director of Fundaciòn Valenica Port, Coordinator of GAINN4MoS project; Antonella Querci, For Tyrrenian-Ligurian ports grid, Port Authority of Livorno, Director of Innovation and Development; Antonio Revedin, for Adriatic-Ionian ports grid, Venice Port Authority, Director of Strategic Planning and Development Unit, Alessandro Gaeta, VP Primary Logistics – ENI Group; George Polychroniou, Public Gas Corporation of Greece (DEPA), Coordinator of POSEIDON MED II project; Panayotis Zachariuodakis, Director of Ocean Finance, Financial instruments to support port installations; Jaroslaw Kotowsky, INEA MoS Unit
Ports of the future: dealing with climate change:
Scene setting presentation and moderator: Mr Olaf Merk, OECD
Introduction to the outcome of the Paris Agreement, December 2015: Jan Brooke, Focal point for PIANC's Think Climate coalition
The unseen impact of construction in port development. Findings ways of mitigating GHG emissions and planning for climate change adaptation: Charles Haine, Director, Responsible Finance. Lead advisor Sustainability, Climate Change & HIA, Royal HaskoningDHV
Industrial symbiosis at the Port of Malmo: Petra Konig, Environmental Manager, Copenhagen Malmo Port, Ellen Corke, Malmo Port
Mitigation, adaptation and decarbonisation at the Port of Rotterdam: Victor Schoenmakers, Director Corporate Strategy, Port of Rotterdam
Chronic and acute effects caused by runoff of stormwater contaminated by sediments: Dr. Stefano Biondi, Engineer Francesca Sambo, Engineer, StormWater Italia & Marta Citron, Engineer, Nicola Torricella, Engineer, Venice Port Authority
Sustainable port development: maximizing potential:
Unleashing the potential of maritime ports: Zoran Perunovic, Associate Professor, DTU Executive School of Business
'Ports of the Future', the sustainable development concept as adaptive, environmental and socio-economic growth in ports and cities: Cor Schipper, Marine biologist, Expert Green Port Development, Deltares
Digital Ports, integrated assets within Ocean Supply Chain: Oscar Pernia, Senior Director - Product Strategy, Navis
Port incentive schemes and sustainability reporting:
Sustainability reporting for Ports', a contribution of the IAPH/PIANC working group 174: Linda van Waveren, Manager CSR, Port of Amsterdam, Dorita Hermes, Environment & Sustainability Manager, Port of Hamburg
Green for Go! – Or caution? Costs, benefits - and cautions, of differentiated port infrastructure charges: Michele Acciaro, Associate Professor of Maritime Logistics at Kühne Logistics University, Michael Dooms, assistant professor, University of Brussels, Christopher Wooldridge, Cardiff University
Are ports moving fast enough?: Kris Fumberger, Sustainability Manager, RightShip
Cruise port infrastructure, dealing with increasingly large ships:
Mind the gap! Are northern European ports ahead of the south in terms of green infrastructure and policies?: Dietmar Oeliger, Head of Transport Unit, NABU – The Nature and Biodiversity Conservation Union
Operator feedback: how ports have dealt with the Harmony of the Seas, the World's largest cruise ship: Adam Sharp, Head of Port Operations & Guest Port Services - Northern Europe, Middle East & India, Royal Caribbean
Ship-generated organic wastes – challenge and potential: Magda Wilewska- Bien, PhD student, Department of shipping and marine technology Chalmers University of Technology
Port projects: renewable energy, transport systems:
Green Cruise Project: Sustainable energy, Innovative terminal facilities and cruise terminal traffic links: Manfred Lebmeier, Head of Environmental and Spatial Strategy, Hamburg Port Authority
Port-City involvement: Operating a cruise port in a historic city: Roberto Perocchio, Venice Passenger Terminal
Reducing emissions from cruising: update and feedback from operators:
Cutting ship emissions in ports: Knut Marquart, Head of Shore to Ship Power, Siemens & Thomas Kopel, Energy Management, Siemens
Hummel Hybrid Barge – feedback on the first two years' operations: Max Kommorowski, Director LNG Hybrid
Carnival Cruises – opting for LNG as a solution to ECA compliance: Tom Strang, Senior Vice President Maritime Affairs, Carnival Corporation
EcoShip – an alternative futuristic approach: Yoshioka Tatsuya, Co-Founder and Director, NGO Peace Boat, Andrés Molina, Project Manager, Pace Boat Ecoship
Don't miss the opportunity to save 20% on the full delegate rate to attend - book today to guarantee your saving.
Preferential rates are available for participants attending both the GreenPort Cruise Conference and GreenPort Congress and members of supporting associations qualify for special rates. For more information contact the Events team on +44 1329 825335 or email congress@greenport.com.
Follow the event on Twitter @GPCongress.