When Carnival Corporation's AIDAsol sailed into the Port of Hamburg in Germany in May 2015, it also charted a course that may set the cruise industry on a new path for powering its vessels, writes Tom Strang, senior vice president, maritime affairs, Carnival Corporation.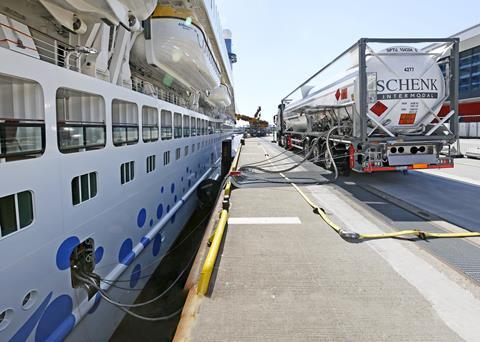 AIDAsol from our company's AIDA Cruises brand was the first cruise ship in the world to be powered by 7.5 megawatts of low-emission power by means of liquefied natural gas (LNG) while in port. The journey into innovation continued in May 2016, as the AIDAsoland AIDAprima both harboured in Hamburg were simultaneously powered by LNG; the Sol from the barge and perhaps more interestingly the Prima directly from an LNG truck on the quay.
The AIDAprima represents the first of a new generation of ships that are playing an important role in how the industry can approach the challenges and opportunities associated with the move to LNG. By 2019, Carnival Corporation will be the first cruise company in the world to use LNG to power cruise ships both when they are in port and in the open seas.
Environmental focus
The effort is one of many that our company has in place to meet our focus on sustainability and the environment. We have been firmly committed since our inception 44 years ago to operating responsibly, as our company's very existence is tied to protecting the oceans, seas and ports in which we operate. With more than 120,000 employees, most of whom live and work at sea, we remain more committed than ever to responsible and sustainable practices to protect and maintain healthy oceans, seas and ports of call. We have established and published our own aggressive 2020 Sustainability Goals, including the reduction of the intensity of our C02e (equivalent carbon dioxide) emissions from our operations by 25% by 2020 relative to our 2005 baseline.
As part of our effort to achieve our goals, there was a strong interest to select and implement fuel sourcing that would dramatically reduce our rate of emissions and footprint. Compared to marine diesel oil, LNG – the world's cleanest burning fossil fuel – offers a 95 to 100% reduction in SOx, an 85% reduction in particulate matter, an 85% reduction in nitrogen oxides and a 25% reduction in carbon emissions. LNG can and will play an invaluable role in meeting our goals of responsible operations in port and at sea.
At the same time, the international regulatory framework is taking aggressive steps to increase environmental standards. By 2020, the European Union will require ships to use fuel with a maximum of 0.5% sulphur while in European waters. Similarly, Directive 2014/94/EU calls for the development of alternative fuels infrastructure at ports throughout the European Union. With the International Maritime Organization also advocating for the use of cleaner burning fuels by its members, the change can be expected to cascade around the globe. Emissions Control Areas (ECAs) in Europe, North America and Canada have also implemented regulation to reduce emissions and reduce sulphur content.
LNG migration
While there is significant momentum towards this change, challenges still remain in the successful migration to LNG powering a significant percentage of the cruise ships operating around the world. As the price of a barrel of crude oil has continued to soften globally in recent times, the economic incentive encouraging investment in LNG has also tapered. This could in turn slow the development of the necessary LNG bunkering facilities at international ports of call, which is a critical element since, for example, ships from Carnival Corporation's 10 brands visit more than 700 ports. Ports such as Singapore, Rotterdam, Zeebrugge and certain North American ports have begun to invest into meeting the supply chain needs required to provide LNG in a clean, safe and reliable stream that rivals traditional fuel --- but this infrastructure development remains in the early stages.
Regarding bunkering, as new regulations and guidelines are being implemented around the world, organisations such as the Society for Gas as a Marine Fuel (SGMF) and the EU Sustainable Shipping Forum (ESSF) will pursue uniformity in policies from port to port. Carnival Corporation together with other industry representatives are working to ensure that regulations addressing LNG bunkering are standardised from location to location to the extent possible. Leadership at the ports will continue to play an important role in this process as well.
While engineering and operations staff both aboard ships and in ports will need to be trained in the new specifics of their tasks as they relate to the safe transport and utilisation of LNG, this is not expected to be a major deterrent to adoption across the industry. Training centres such as our Center for Simulator Maritime Training Academy (CSMART) at the Arison Maritime Center in Almere, Netherlands, stand ready to adjust to the new training elements required to be ready to run ships on LNG and dual-fuel systems in a variety of scenarios.
While other sectors have been navigating the challenges of retrofitting LNG solutions, at Carnival Corporation, our focus has been exploring the adoption of LNG in new shipbuilds. As an example, our new AIDAprima ship, launched in May 2016, is the world's first cruise ship with a dual-fuel powered engine that can use LNG in port.
Future proofing
By 2022, Carnival Corporation will take delivery of seven new cruise ships that will be powered by LNG in port and at sea for our Carnival Cruise Line, P&O Cruises UK, AIDA Cruises, Costa Cruises brands. We consider this "future proofing" our new ships, building today for the challenges of tomorrow – be they regulatory or economic in nature. This also offers us a significant hedge against fluctuation in fuel costs over time, one of the biggest variables in the overall economic model.
Safety being paramount and onboard space being at a premium, significant focus has gone into the specifications of how LNG will be transported effectively and efficiently. Natural gas is converted into liquid by cooling it to -162°C, which shrinks its volume by a factor of 600. The fuel will be stored in type C tanks at a working pressure of 0.7 bars. The tanks are located in their own hold spaces, with double-wall pipes used for gas lines and gas control valves located in their own safe spaces. On our LNG-fuelled ships, the LNG will be used to power dual fuel, medium speed, four-stroke engines to run the ship in port and at sea. We have chosen dual fuel engines to ensure compliance with safe return to port requirements and so that in all cases we have a backup supply of traditional fuel.
One key element was deciding upon the total volume of LNG needed to be stored on board. LNG, when liquefied, has a density that is about half that of conventional fuels; therefore, it does require a larger tank volume than conventional fuel. Consequently, when designing the vessel we needed to analyse the likely itineraries to ensure the optimum arrangements on board. For our first vessels we will be designing the vessel to be able to operate for 14 days between refueling with a combined volume of approximately 3,600 cubic metres of LNG stored on board.
When introducing something as transformative, as advanced and as impactful as LNG becoming the primary power source for the world's newest cruise ships, a myriad of elements must be at work if the move to a new operational model will succeed. At Carnival Corporation, we are proud to be taking a leadership role in this major evolution in our industry as part of our overall goal of constantly looking for ways to protect the oceans, seas and ports of call that we consider our home away from home.
Book your place at the 2016 GreenPort Cruise Conference to hear first hand from Tom Strang on Carnival Corporation's reason for adopting LNG to comply with ECA regulations.
The full programme is available online.
Attendees at the GreenPort Cruise Conference are invited to join the GreenPort Congress Welcome Reception at the Hotel Bauer, on the evening of 11 October 2016. Don't miss out - book your place today. Preferential rates are available for participants attending both the GreenPort Cruise Conference and GreenPort Congress and members of supporting associations qualify for special rates. For more information contact the Events team on +44 1329 825335 or email congress@greenport.com.
Follow the event on Twitter @GPCongress.