Becker Marine Systems has won a prestigious environmental award for its LNG hybrid barge in operation at the Port of Hamburg.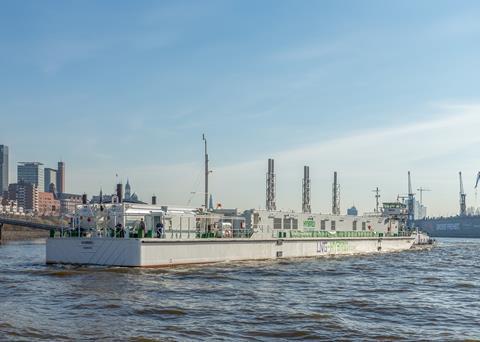 The LNG Hybrid Barge called the HUMMEL first supplied low-emission power to a cruise ship in the 2015 cruise season. It works like a floating power plant that generates power via a gas container filled with 15 tonnes of LNG for low-emission transfer to the vessel.
Dirk Lehman, managing director of Becker Marine Systems, said that the Seatrade Cruise Award for the "Environmental Initiative of the Year", won in conjunction with AIDA Cruises, shows that the firm is on the right track with our ideas in the field of utilising LNG.
The LNG Hybrid Barge is making a lasting contribution towards improved air quality at port cities. By utilising LNG, soot particles and sulphur oxides are no longer being emitted. Moreover, emissions of nitrogen oxides have been cut by 80% and CO2 by 20%.
In addition to the Seatrade Cruise Award, the LNG Hybrid Barge had previously won the GreenTec "Travel" Award, the Baltic Clean Sea Maritime Award and second prize in the 2014 German-Norwegian Business Award.
The LNG Hybrid Barge will again supply low-emission power to cruise ships in the coming cruise season. Becker Marine Systems, said that it has future plans to provide the pioneering technology to ferries, container ships, bulkers and tankers as well.
The Becker Marine LNG Hybrid Barge will be visited as part of the GreenPort Congress Port Tour – book now to guarantee your place on the tour.
For more information contact the Events team on +44 1329 825 335 or email congress@greenport.com.