Don't miss the opportunity to represent your company on the GreenPort Cruise & Congress Piraeus 2021 programme. Call for papers closes next week!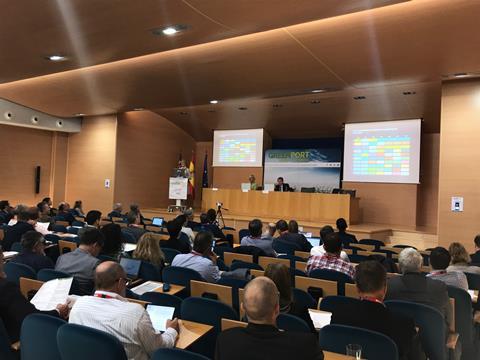 GreenPort Cruise & Congress brings together the whole port community and is a platform for the exchange of information on the latest in sustainable environmental practice. In 2019 more than 180 high level decision makers attended, from companies and ports including DNV GL, Wärtsilä and Hamburg Port Authority. The event helps maritime ports and terminals to reduce their carbon footprints whilst becoming more sensitive to environmental considerations, which is vital to their future success! The 16th edition of the conference provides senior port professionals with a meeting place to discuss and share the latest in sustainable development and environmental practice within sea ports, terminals and their associated logistics supply chain.
To be considered to represent your company – send your abstract or presentation now covering one of the following areas:
Congress
The EU's new climate plan 'The Green Deal' – how will this affect ports big and small, with a focus on specific case studies.
Onshore power supply – financial and technical challenges
Ports getting ahead for new fuels – methane, ammonia, hydrogen
New types of alternative power in ports
The latest in port equipment
Collaborative community projects – integrating the port with the people and local industry
Achieving climate and sustainability goals through cross-industry partnerships and collaboration
Sustainable transport and logistics in the hinterland connections of the port - short sea shipping, road, rail
Biodiversity protection & enhancement (projects)
The impact of the pandemic on port environment and shipping
Cruise
The multiple impacts of Cruise – on the port and on the surrounding areas visited by tourists
The impact of the pandemic on the Cruise Industry and its impacts on the environment
Latest green terminal projects
Sustainable cruise projects
Sustainable cruise initiative in Europe
Regulatory aspects/environmental impacts of ro-ro and ro-pax activity in ports
The latest on LNG advancements port-side – refuelling, infrastructure, etc plus case studies
Eco Cruise Ships
Abstracts or presentations should be no more than 250 words and should be sent, with a biography of the speaker, headshot photo and logo, to Josie Gilchriest Jgilchriest@mercatormedia.com by 15th April 2021 at the latest.
Preference will be given to abstracts/presentations from ports and terminals illustrating good practice where an impact has been made to lower noise/emissions/improve air quality/relieve congestion/reduce energy consumption, etc. Suppliers of equipment to achieve the above are also invited to submit abstracts and case studies, particularly in conjunction with testimonials from ports. We also welcome papers/presentations that identify scope for collaboration between port sector and cruise industry in delivering sustainability.
For further information about speaking, sponsoring or attending as a delegate, contact the Events team on +44 1329 825335 or email congress@greenport.com