We are delighted to confirm Cavotec as the Gold Sponsor at the 16th GreenPort Cruise & Congress being hosted by the Piraeus Port Authority.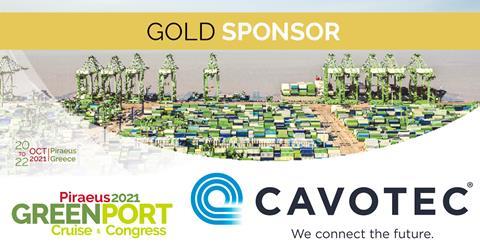 Cavotec is a leading cleantech company that designs and delivers connection and electrification solutions to enable the decarbonisation of ports and industrial applications.
Backed by more than 40 years of experience, their systems ensure safe, efficient and sustainable operations for a wide variety of customers and applications worldwide.
GreenPort Cruise & Congress 2021 will cover a range of themes including Port Equipment - Supporting the drive for improved sustainability & efficiency, Energy efficiency improvements and on-shore power supplys, The Green Deal – moving forward with green logistics, eco-cruise ships and sustainable cruise initiatives in Europe.
Keep an eye out for further updates on this year's sponsors and speakers to see who will be joining us in Piraeus, Greece on 20-22 October 2021.
If you are interested in attending this year's event contact the team at congress@greenport.com or book online at https://www.portstrategy.com/greenport-cruise-and-congress/buy