Delegates at day one of GreenPort Cruise & Congress attended the conference dinner last night at Tjuvholmen Sjømagasin, a restaurant specialising in fish and seafood in the heart of Oslo.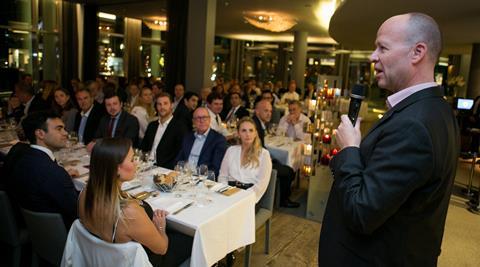 Over 150 of the 200 conference delegates were in attendance and enjoyed a delicious meal using the freshest ingredients and delicious locally sourced fish. The networking dinner gave delegates the opportunity to make new connections and continue the day's discussions in a relaxed setting.
The ESPO PERS certificates were handed out during the evening. With Barcelona and Vigo renewing their certification and Baku receiving the PERS accreditation for the first time. Isabelle Ryckbost, Secretary General of ESPO was on hand to hand out the awards and congratulate Baku on their fantastic achievement.
Ingvar Mathisen, CEO of Port of Oslo and Heidi Neilson, Head of Environment both took the time to speak to delegates about the development of Port of Oslo over the years and gave examples of ongoing sustainability activities taking place.
Photos of the conference will be available next week, and you can see live coverage of the event on twitter @GreenPortBiz.