The overwhelming message from the two day Congress was that while there is increasing awareness of social, economic and environmental sustainability, port stakeholders must work together to enhance communication to help overcome issues, raise awareness and reduce risk, whilst also avoiding crises.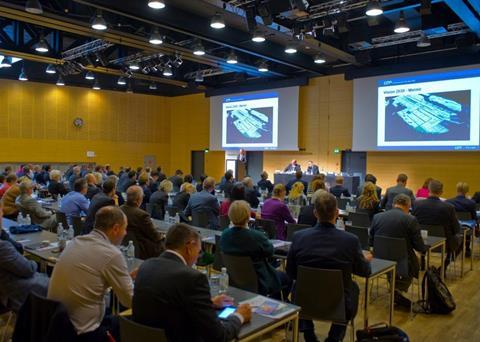 Hosted by Copenhagen Malmo Port (CMP), nearly 220 maritime port authorities, terminal operators, NGOs, EC representatives, associations and suppliers came together in Copenhagen from 7-9 October 2015. Johan Röstin, CEO of CMP, opened the conference with an enlightening presentation about the scope of environmental undertakings on many fronts - water, noise and soil pollution - including a torpedo to clean up oil–polluted water, and it is working with universities to measure the port's impact on the seabed. Rostin commented though that "making sure that people think 'environment' can be a challenge with some external stakeholders".
The programme contained a mix of plenary sessions and working groups and, in the first session, Patrick Verhoeven, secretary general of the European Community Shipowners' Associations (ECSA), introduced a broad session discussing the impact of recently introduced sulphur regulations and what has been learned both by regulators and industry operators. He noted that there is room for a forum bringing together both ports and shipping companies in this area, but the two sides must face the problems together.
Dimitrios Theologitis, Head of Unit Ports & Inland Navigation, DG Move, talked about the forecasted growth in trade volumes, bigger ships, data-driven technologies and noted some of the many things port operators can do in response. "Of course global regulation is the best possible way, but all global starts with regional moves. Someone has to make the proposal. And if that someone is part of the EU, the EU must recognise the proposal - the experience of sulphur ECAs shows what happens if there is not regional recognition," he said. Edvard Molitor, Senior Manager Environment, Port of Gothenburg, noted that SOx emissions in Gothenburg have dropped by 80% since January, with no traffic problems caused by the SECA - although he said that some containerships are detouring to minimise SECA time.
On the interplay of global v regional regulation, Olaf Merk, from the International Transport Forum highlighted the need for cooperation first at a local level when regulations such as the sulphur directive are introduced, where ports have an essential 'stage director' role to play. On a global level, he asserted the need for a regular stakeholder conference not just for green issues, but on all issues affecting the supply chain.
The Port Tour on the final day, Friday, 9 October, delegates were able to visit the Becker Marine LNG Hybrid Barge before carrying on to the Cruise Terminals, Ndr Toldbod and Langelinie, the Søndre Freeport, ferry and RoRo terminal and freeport, container- cruise and general cargo terminals. The tour then continued on to the Cruise terminals Oceankaj (Ocean Quay), the bulk terminal Prøvestenen, Liquid Bulk Prøvestenen and had sight of Middelgrunden, the world's first off shore Windmill Park. Continuing on to Sweden via the Øresund Bridge, the Liquid bulk, Swede harbour, dry bulk, Norra Hamnen, Malmö Industrial Park, Norra hamnen, Container,- RoRo and Combi terminal were all visited and the tour ended with lunch on-board ms Finnpartner, courtesy of FinnLines.
Details about the 2016 GreenPort Congress will be released soon – for further information contact the Events team on +44 1329 825335 or congress@greenport.com.