The Port of Copenhagen Malmö (CMP) has been named 'Port of the Month' this September by the European Sea Ports Organisation (ESPO) for its unique cross-border alliance and 'green' plans for the future.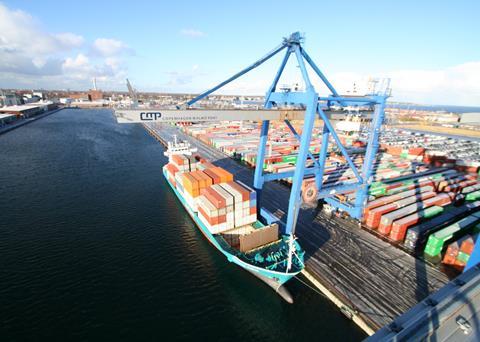 The full service port sits in the small strait between Denmark and Sweden at the entrance to the Baltic Sea, and is the first of its kind, being two ports in two different countries with joint operations under one company and one legal entity.
CMP has an integrated ISO 9001 and 14.001 certification and has made the EcoPorts Self Diagnose with a very high score. We probably have the most efficient sewage reception facilities at our new cruise quay with a capacity of 300 cm/h from each vessel berthed and we are constantly looking for improvement of our environmental performance
CMP's main activities cover oil and dry bulk, new cars handling, ro-ro and containers, although the port also has warehousing activities and facilities for combined transport. It is also the largest cruise port in the Baltic Sea area with more than 700,000 passengers each year and seven berths for cruise vessels in Copenhagen and three in Malmö.
Despite having had "no real competition" from other ports over the years, CMP says the SECA regulation has been a challenge for the Baltic Sea ports with some ships leaving the area because they could not use the SECA fuel and other ships sailing less.
In the coming years, CMP says it expects to expand its activity by 3-4 % annually, mainly by using larger ships carrying more passengers. With this, it also plans to expand its cruise terminal operational activities in 2018 to the heritage city Visby on the Swedish Island Gotland in the Baltic Sea, with two berths in a lease agreement with Gotland.
Going forward, CMP says it expects to see a rise in the use of LNG as the market matures, but it likely only begin to affect the port between 2020 and 2025 as more ships run using LNG engines and fuel.
Although the port says it's already "ready for the future", it also has plans to upgrade railway facilities in Malmö and the possibility of an additional cruise terminal in Copenhagen. It will also look at moving its container terminal in Copenhagen due to city development; CMP says it's in the process of looking at the best possible location options and new, state-of-the-art environmentally friendly equipment to keep the future 'green'.
The port will play host to this year's GreenPort Cruise on Tuesday 6 October 2015 and the GreenPort Congress taking place from 7 to 9 October 2015.
Follow the live blog from the exhibition here.
Book your place here for the GreenPort Congress taking place in Copenhagen next week!