Over 45 papers and presentations from the 2015 two day technical GreenPort Congress are available online to download; bonus material includes the findings from the Working Groups. Presentations given at the 3rd GreenPort Cruise Conference are also available to download.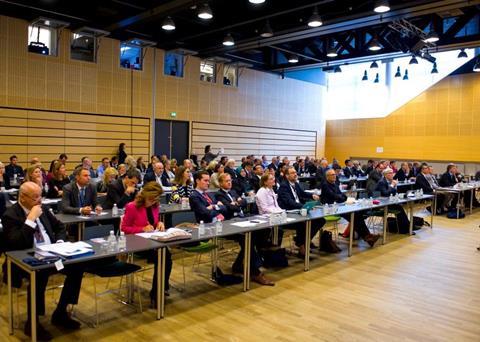 The programme comprised a mix of discussion sessions with keynote presentations, working groups and plenary presentations. Highlights include:
Discussion session: Global versus regional regulations on shipping related aspects and impacts on ports
Keynote presentation: Dimitrios Theologitis, Head of Unit Ports & Inland Navigation, DG Move
Discussion session: Changing expectations of a 'green' port: the view of the stakeholders
Keynote address: Antonis Michail, ESPO Sustainable Development Committee
Working Groups: Fuel options for SECA Compliance, Port Reception Facilities, Improving efficiency in terminal operations, Port City development, sustainability co-operation projects, New port initiatives, concrete challenges and solutions, Port planning and expansion
Plenary session: Inland logistics, multimodal solutions and traffic management

Multimodal solutions
Connectivity of ports via rail investments
Efficiency and boosting port capacity
Making sustainability walk hand in hand with efficiency and competition

Presentations:
Inland ports looking seaward and towards the hinterland for sustainable development, Xavier Seguí, Martí Puig, Rosa Mari Darbra, Polytechnic University of Catalonia, Chris Wooldridge, Cardiff University
Is the corridor approach of EU Commission really target-aimed? Malte Siegert, Head of Environmental Policy, NABU Hamburg
The 3rd GreenPort Cruise Conference was opened by Stavros Hatzakos, President, ESPO Cruise & Ferry Network and sessions included:
ECA compliance: LNG, fuel switching, scrubbers, OPS – the ongoing debate for working with the 0.1% sulphur regulations? What is working and what other options are there?
Dealing with waste from cruise ships
Innovative cruise ship terminal designs
Panel discussion on working together to overcome the issues surrounding increasing numbers of passengers visiting cities via cruise ships
Read the full GreenPort Congress and GreenPort Cruise programmes here or gain access to the presentations given here.

For further assistance please call the Events team on +44 1329 825335 or email congress@greenport.com.