Cruise operators have done a lot of work over the years to reduce emissions and waste, but ongoing investment is required to ensure the industry remains 'green', the Cruise Lines International Association (CLIA) told 'GreenPort'.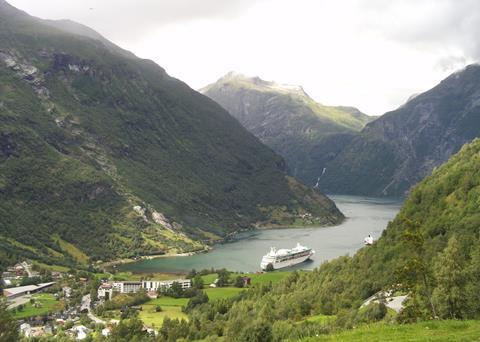 According to CLIA's recent State of the Cruise Industry report, a record 23 million passengers are expected to sail the seas this year and cruise lines are enticing travellers with nearly 1,000 ports of call in new, exotic locations, especially in the fast-growing Asian market, and in many areas that fall within a UNESCO World Heritage Site.
CLIA also revealed that member cruise lines are scheduled to debut 22 new ocean, river and specialty ships in 2015 for a total investment of more than US$4bn, so the pressure is on to ensure environmental policies are followed.
Andy Harmer, director, CLIA UK & Ireland, told GreenPort: "Members of CLIA must annually certify their adherence to CLIA environmental policies, including a Waste Management Policy that exceeds current law and regulations."
"To this end, CLIA members have invested significantly over the last decade to develop and implement new technologies that help to reduce air emissions, including utilising exhaust gas scrubbers, developing engines that run more efficiently and using shore power, which involves a ship connecting to shore-side power and shutting down its own engines while in port," he added.
The industry has also made significant strides in improving its energy consumption inside ships by switching to low energy LED lights and high efficiency appliances, using recycled hot water to heat passenger cabins, to using special window tinting that keep passageways cooler and utilise less air conditioning.
In addition, strict procedures are in place to help ensure that all passenger waste is disposed of properly. CLIA told GP each year, the cruise industry recycles around 80,000 tonnes of paper, plastic, glass and aluminium cans, and unrecyclable waste can be as little as one-and-a-half pounds per person a day – compared to the average of four to five pounds on land, based on USA consumption.
As the popularity of cruising continues to grow, best practices and industry policies are continuously reviewed to ensure sustainable operations.
"In 2014, CLIA and its members implemented new policies on public health, waste management, and fire safety as part of their continuous efforts to raise the bar on their performance, and this is set to continue in 2015," Mr Harmer explained.
The reduction of sulphur emissions will continue to be a key focus for the cruise industry in 2015, following the IMO's Energy Efficiency Design Index, which requires a 30% reduction in ships' CO2 emissions by 2025 through the use of more energy-efficient and therefore less polluting equipment and engines.
In addition, as per the 2012 EU Sulphur Directive, as of January 2015 all ships navigating through the Sulphur Emissions Control Areas (SECAs) set up in the English Channel, North Sea and Baltic Sea, are required to burn fuel containing 0.1% sulphur or less.
"Cruise lines will therefore continue their investment in further solutions to reduce emissions, with a particular focus on those that can be implemented in the short to medium term, such as gas scrubbers, additional filter systems or the use of alternative fuels for ships, such as LNG, in order to make existing and future cruise ships 'greener'".
Working together with manufacturers, cruise lines have already developed solutions for the cleaning of exhaust gases, and prototypes of exhaust gas treatment systems, such as catalytic converters and desulphurisation units, are already in use on ships that have recently entered service, Mr Harmer told GP. "Particulate filters are also due to be trialled on board ships in the foreseeable future."
The 3rd GreenPort Cruise Conference takes place on 6 October 2015, the day before the GreenPort Congress, in Copenhagen and will cover a range of issues facing cruise ports and terminals today as passenger numbers continue to increase.
Book your place now! Delegate packages covering both the GreenPort Congress and GreenPort Cruise Conference are available. For more information regarding the GreenPort Cruise Conference and/or Greenport Congress 2015, please contact the Events team on +44 1329 825335 or email congress@greenport.com.