Both cruise and port stakeholders showed they are playing a key role in sustainable shipping at GreenPort Cruise and Congress 2019.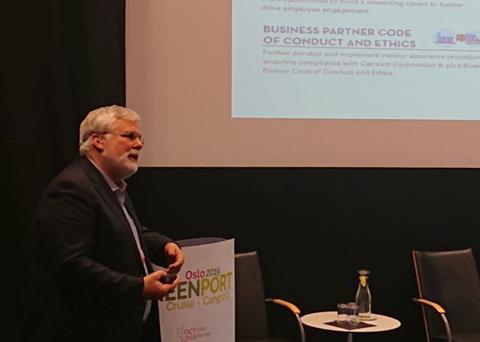 Battery, LNG and shore power were amongst the technologies discussed by major cruise companies, who shared their current research and development initiatives as they work towards zero-emission operations.
Speaking at Mercator Media's annual environmental conference, Tor Svensen, vice president of maritime technology at Royal Caribbean Cruises, demonstrated that, while investments are ongoing in battery development for shoreside and sea operations, not all the maritime sector believe it is a feasible application for the whole industry.
"Batteries are ideal for short-sea shipping but not for anything else," he said, adding that fuel cells show promise but are a "solution for the future".
LNG is also regarded as being part of the sustainable fuels drive, Mr Svensen said. On the subject of tackling NOx and PM, he stated that LNG and SCR can cut these emissions to just 1%.
"Ambitious but realistic targets are what is needed," he stressed.
Tom Strang, SVP maritime affairs at Carnival, told delegates that it works closely with ports in order to maintain a constructive dialogue on technology developments that are feasible for both sectors, a strategic move made more important he said, because the "real dilemma in industry is not knowing which direction to go in."
In contrast to Royal Caribbean Cruises' stance on fuel cells, Mr Strang noted that commercially used fuel cells will be used by Carnival from 2021.
Like Royal Caribbean Cruises, Carnival is confident in the benefits of LNG, despite the eco challenges it presents. "Methane slip is an issue from LNG, but we think we can solve it, said Mr Strang.
This contrasts with the view of Viking Cruises, whose founder and chairman, Torstein Hagen, said during a keynote address, "We do not believe LNG is a solution for the future, not even a temporary one."
Offering a perspective on the complexities of ascertaining the right port investments to make while accommodating the requirements of cruise and commercial shipping companies, Nils Kemme, associate partner, HPC Hamburg Port Consulting GmbH, spoke about creating a logical and methodical analysis process.
His session on how ports can make fully informed decisions about reducing emissions identified four steps. These included terminal inspection to understand the port's energy consumption; shortlisting to identify promising improvement measures; simulation analysis to quantify energy saving and impact on operations and life cycle assessment to assess and compare emissions over life cycle of an asset.
He warned that while a port "can shortlist 20 or so measures it doesn't mean they are good for every port".
"A typical process might be to identify five or 10 measures that can be implemented," he added.
Day two of GreenPort Cruise & Congress is underway now and the port tour will mark the end of the conference tomorrow.