Benefit from the fantastic line up of GreenPort speakers after the event. The papers and presentations from this year's conference are still available to download from the conference website, plus the 2019 call for papers has been released. Submit an abstract now!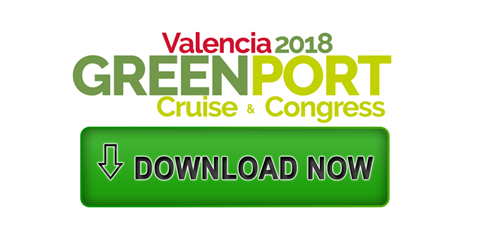 For those who attended GreenPort in October, the papers are still available to download as part of your delegate package and you will have received a username and password via email.
If you didn't make it to Valencia, you can still benefit from the papers and presentations from our line-up of expert speakers. The proceedings are available to purchase from the link below and include three options:
Cruise Download – 20 papers and presentations – Only €200.00
Congress Download – Over 50 papers and presentations – Only €395.00
Combined Download – 70 papers and presentation from three days of conference – Only €505.00
Click here to buy the download
Take a look at this year's full programme on the website, and view a selection of the sessions on offer below:
Cruise - Planning for the future: meeting the specialist requirements of the cruise sector – presentations from Balearia and Cavotec
Cruise - Port reception facilities – speakers in this session included the European Community Shipowners Association and DG Mobility & Transport
Congress - Challenges ahead: the practicalities of meeting them – Presentations from Port of Hamburg and NABU
Congress - You can't manage what you can't measure – an interactive working group featuring material from Ramboll Environment, chaired by Chris Wooldridge, Honorary Research Fellow, Cardiff University
Congress - Responsible supply chains: the full story – case studies from the Port of Amsterdam and Feport featured in this session
Congress - Green technological R&D – the final session of the programme featured five presentations from the port and terminal industry's leading companies such as Stemmann-Technik and Port Feeder Barge
From 15-18 October 2019 we are heading to Oslo for the 15th edition of the annual GreenPort Cruise & Congress. The call for papers is now available online, take a look today and don't hesitate to submit your abstract!
If you would like more information about the conference download, don't hesitate to contact the Events team on +44 1329 825335 or email congress@greenport.com.