The Hamburg Port Authority (HPA) and DNV GL have signed a letter of intent for the implementation of green technologies on Hamburg's fleets.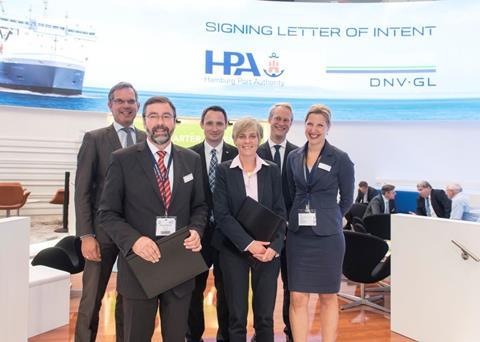 Signed at SMM in Hamburg, the classification society agreed to join forces with the port authority to boost the sustainability of the existing HPA fleet and all new acquisitions.
"Hamburg wants to contribute to reduce emissions in the harbour. An important milestone on this journey is centralizing the management of the municipal fleet under the roof of the HPA," said Frank Horch, Hamburg's senator for economy, transport, and innovation.
Mr Horch concluded: "This way we can make full use of all possibilities for reducing the emissions from the city's own vessels. DNV GL has extensive technical expertise in this area. I am convinced that today's agreement between DNV GL and the HPA will deliver valuable insights."
HPA currently operates 31 vessels, including surface sounding vessels, pilot vessels and ice breakers. Fire-fighting vessels and harbour police vessels, as well as launches and bridge inspection vessels from the municipal fleet, will be added next year taking the total to 49 vessels.
"This letter of intent is another building block in our strategy of setting Hamburg's harbour on a sustainable course," said Jens Meier, chairman of the HPA executive board.
He added: "We are delighted to know that DNV GL is working alongside us as a strong partner and independent advisor, supporting us every step of the way with their expertise."
Book your place at the GreenPort Cruise Conference to hear more from Hamburg Port Authority on their Green Cruise Project covering sustainable energy, innovative terminal facilities and cruise terminal traffic links.
The full programme is available online.
Preferential rates are available for participants attending both the GreenPort Cruise and GreenPort Congress - book your place online today.
For more information contact the Events team on +44 1329 825335 or email congress@greenport.com. Follow the event on Twitter @GPCongress.