A duel-fuel car and truck carrier believed to be the first of its kind is helping drive shore power technology.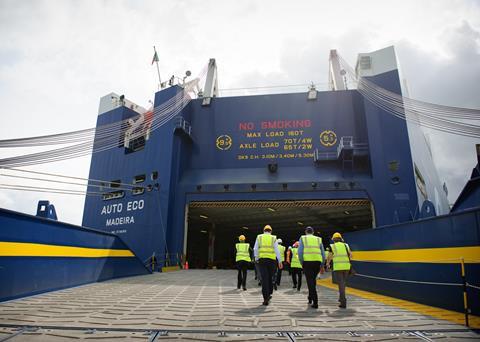 The 181m long UECC-owned MV AUTO ECO, which can run on liquid natural gas (LNG) or heavy fuel oil and marine gas oil, regularly calls at the Port of Southampton, which continues to work towards shore power for larger vessels.
ABP Southampton director, Alastair Welch, said: "While a number of facilities in the port have shore power for smaller vessels, we continue to work on the possibility of shore power becoming a reality for larger vessels."
4,000-vehicle capacity
The 10-deck vessel has a deck area of 32,000 m2, capacity of 4,000 vehicles with maximum weight of 160MT and overall gross tonnage of 42,424.
UECC CEO, Glenn Edvardsen, said: "M/V AUTO ECO is the most technically advanced PCTC ever built, where the LNG installation is a pioneering design, and one of the largest employed on any commercial vessel, and the largest yet of its kind on a pure car and truck carrier (PCTC).
He added that AUTO ECO is helping UECC grow its business as a provider of short sea Ro/Ro transport in Europe while retaining environmental responsibility. The "AUTO ECO serves as a bold statement of UECC's commitment to environmental sustainability," he stressed.
Mr Welch commented: "Solar power and hybrid technologies are also being used in the port and we have also seen significant reductions in power requirements for ships as new technology reduces the load."