As one of Europe's busiest hubs for cruise traffic and tourism, the Port of Barcelona is no stranger to sustainability pressures. With ever larger vessels scheduling calls, there is growing concern regarding the local environmental impacts of the cruise sector, from air emissions to waste disposal and more. Book your place at GreenPort Cruise to learn more.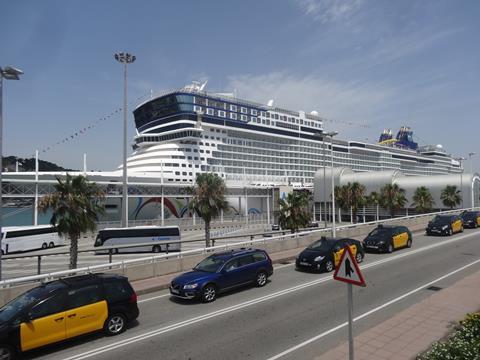 In 2016, a total of 121 cruise ships visited the Catalan capital, representing more than 750 calls and bringing 2.6 million cruise passengers to the city. According to research conducted by the Barcelona Regional Urban Development Agency, cruise ships emit around 700 tonnes of NOx and60 tonnes of PM10 annually, generating 1.2% of the city's air pollution by NOx and 0.23% of its PM10 levels. They account for 12% of the emissions from Barcelona's port activity. In November 2016, the Port of Barcelona unveiled an ambitious Air Quality Improvement Plan, which aims to reduce harmful emissions from port activities by encouraging and facilitating the use of LNG for visiting vessels. Cleaner ships also receive discounts on port fees.
LNG focus
The focus on LNG is of particular interest to the cruise sector, which is under pressure to reduce its environmental impact. Many operators see LNG as a solution for the medium term, since it can provide reductions of 80% in NOx emissions for ships while eliminating particulate and SOx emissions. The growth in design and retrofit of vessels for LNG means that ports which can offer a reliable supply of the fuel are particularly attractive to cruise customers. With a substantial existing LNG infrastructure dating back decades, Barcelona has a strong advantage over many other ports int his regard. Having entered service in 1969, the port's Enagás regasification plant is the oldest working plant of its kind in Europe and with a capacity of almost840,000 m3, it is well equipped to keep up with demand. Enagás is a regulated company which specialises in the storage of the gas, which will be provided to cruise operators by the main fuel companies active in the region.
With European funding from the CORE LNGas hive project, flexible cryogenic loading arm will be installed at the plant to pipe LNG to barges, which will supply the fuel to larger vessels. The intention is to allow major cruise customers such as Carnival Corporation (whose new cruise terminal opens in the port in 2018) and MSC Cruises to fuel their fleets from dedicated barges, with other operators likely to follow suit. Shell, Repsol, Cepsa, Total and GasNatural Fenosa are just some of the suppliers active at the site. The first of the barges is currently under construction at Zamakona shipyard in Bilbao, for delivery in early 2019.
"The Port of Barcelona is very well positioned to become an LNG supply hub," says Jordi Vila, head of environment at the port. Mr Vila describes LNG as "the option chosen by the cruise industry," adding: "Three years ago cruise lines would not even consider LNG as an option. Now all major cruise operators have ordered LNG vessels or are planning to do so. Their strategy is focused on this alternative fuel." The port is focusing on three main aspects: rolling out the infrastructure for LNG bunkering; pilot projects to prove LNG performance and efficiency; and regulation. The supply of LNG to cruise vessels will commence from 2018.
Lowering emissions by providing alternative fuel options is just one element of Barcelona's green cruise strategy. The port is also working towards changes in its legal provision for environmental discounts, to offer up to 40% rebates for sustainable behaviour (up from the current 5% maximum).
Jordi Vila will be presenting the advantages of using LNG to the Cruise sector at the 2017 GreenPort Cruise Conference, book your place now to have the opportunity to join in the discussion about the sustainable development of the Cruise sector.
Book now to secure your place.
Members of ESPO, EcoPorts and Feport qualify for special rates, for further information contact the Events team on +44 1329 825335 or email congress@greenport.com.
Follow the event on Twitter @GPCongress.