Envisan France, the French branch of the environmental division of Jan De Nul Group, is beginning the construction of its Soil and Sediment Treatment Centre, designed for the treatment and recycling of polluted sediments and soil.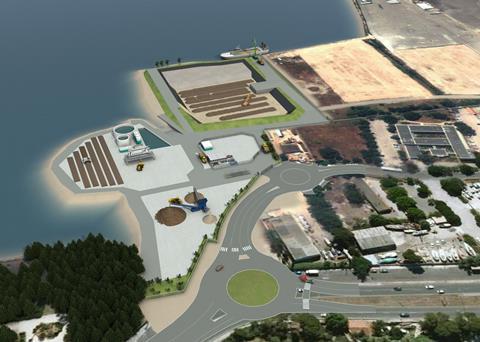 Based on its expertise gathered in Belgium, where legislation allows for re-use of sediments in the construction industry, Envisan will open its first centre in France. It will be built on a site of 3.4 hectares (8.4 acres) and will feature several treatment techniques for polluted sediments and soil.
The centre is an extension of the SEDIMED research programme, which aims to lift the administrative and regulatory barriers for allowing recycled sediments to be used in the construction works industry: roads, concrete structures, maritime works and landscaping or anti-noise pollution eco-models.
Envisan says this will make the centre the preferred partner for companies involved in maritime works, public and construction works and remediation works.
The centre can process up to 160,000 m3 of material per year. Polluted soils can be shipped or trucked in and are deposited into watertight storage areas, where they are sorted and filtered before being treated either by bioremediation or by means of hydraulic, mechanic or physico-chemical treatment. Dredging sediments are pumped into a watertight lagoon for subsequent natural or mechanical dewatering.