Over 48 leading industry professionals are speaking at GreenPort 2018, sharing best practice and exemplary case studies in the port and terminal sector. Are you joining them?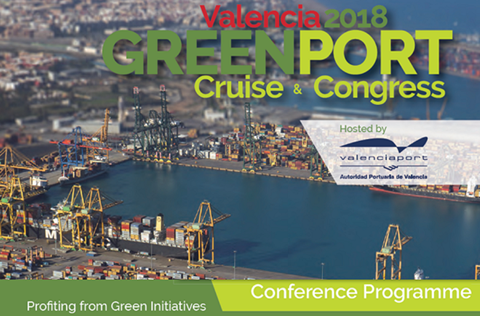 The programme for GreenPort 2018 has been finalised and is now available to view online. GreenPort Cruise & Congress will feature an impressive mix of panel discussions, workshops and ground-breaking projects highlighting the latest innovations in sustainable best practice.
---
GreenPort Cruise
Ports as hubs of blue growth – a presentation by the European Commission detailing the opportunities for growth in cruise ports today, including niche cruises. Presented by Felix Leinemann, the Head of Unit for Blue Economy Sectors.
Meeting the demand for LNG and other environmental factors – this is a prominent issue in many cruise ports today and cruise lines are having to adapt to ever changing environmental constraints. Guillermo Alomar Borras, Fleet Manager at Balearia investigates this.
European Shipowners support the proposal for better waste handling PRFs and The Port of Stockholm will respond with the port perspective – The final session of day 1 will include presentations on port reception facilities from the European Community Shipowners Association and the Port of Stockholm. Both speakers will shed light on the changing requirements for port reception facilities and how stakeholders are responding to them.
Click here to view programme and book
---
GreenPort Congress
Policy measures: what's next? Isabelle Ryckbost of ESPO, Antonis Michail of IAPH and Alvaro Rodriguez of Puertos del Estado will tackle the topic of the effects that mounting policy measures have had on the port and terminal environment.
Responsible supply chain partnerships – the ports of Rotterdam and Amsterdam will be giving a joint presentation on how partnerships can foster responsible supply chains using the Dutch example. The speakers in this session will be Linda Van Waveren and Remco Neumann, CSR Programme Managers at the Port of Amsterdam and Port of Rotterdam respectively.
The LNG-fuelled port feeder barge for green container logistics within sea ports – Ulrich Malchow, the Managing Director of Port Feeder Barge will be enlightening delegates with a case study surrounding the application of his innovative technology.
Click here to view programme and book
The above presentations represent a small proportion of the array of topics available on the GreenPort 2018 programme.
If you haven't yet booked your place for this year's conference, do so now to benefit from over 40 high-level presentations over three days.
To book your place call the team on +44 1329 825335 or email congress@greenport.com