The final line-up for GreenPort Cruise & Congress 2019 is out now! Hosted by the Port of Oslo, the 2019 European Green Capital, GreenPort Cruise & Congress will take place from 16-18 October at the Felix Conference Centre, Oslo, Norway.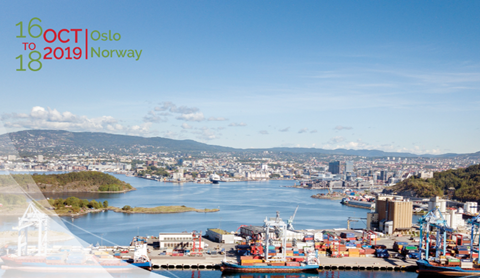 This year's programme features a first day of parallel Cruise and Congress sessions on 16 October, followed by a second Congress day on 17 October, focussed exclusively on the issues affecting commercial ports and terminals.
Join over 150 senior managers from port authorities, terminal operators, supply chain experts, policy makers and technology providers at this premier networking event, focusing on the interaction of the port with the city surrounding it.
This year's programme emphasises the impact of zero emissions targets, responses to environmental challenges driving innovation, high tech green solutions, green logistics, and measuring emissions. There will also be a closing session concentrated on small ports and the solutions that they can use to boost efficiency while cutting costs.
IMO to open conference
This year, the conference will open with a presentation from the IMO. Sveinung Oftedal, IMO Negotiator for Norway, will discuss the future of zero emissions for ports, terminals and ship operators.
This will be followed by a session covering legislation and cooperation, which will feature case studies showcasing the Norwegian example. The Zero Emissions Resource Organisation, the Norwegian Maritime Authority and Bellona will provide insight on topics such as challenges in the adoption of future fuels, regulations in the UNESCO world heritage fjords and sustainable cruise solutions.
Cruise sessions on day one:
Cruise operators respond to session one
Environmental challenges driving innovation and investment
High tech green solutions on cruise ships
Congress sessions on day one:
Towards an era of zero emissions: solutions for ports, terminals and cities.
City ports as energy hubs and circular economy
Working group - How to develop a Port Sustainability Strategy: a roadmap to success
Interact with our working group
The end of day one will host a workshop designed to collate the knowledge and experience of delegates towards a common overview of good practice options in achieving sustainable development to mutual advantage of ports and supply chain operators.
Selected industry experts will showcase a four-step approach and provide insights, engaging the numerous ports, terminals and operators in the audience.
The workshop has been formulated by Renee Hovey, a Senior Consultant at Sprott Planning and Environment and will be moderated by Dr Chris Wooldridge, an Honorary Research Fellow from the School of Earth and Ocean Sciences, Cardiff University.
Day two
Day two kicks off with a session featuring ESPO and IAPH who will update delegates on their latest priorities and goals for the coming year.
This will be followed by a technology showcase session including the big names in green technological solutions for ports and terminals such as ABB, Hyster and INFORM.
Throughout day two, delegates will be reminded of the results from the previous day's working group and these results will be applied to the changing landscape as the programme progresses on the second day of presentations.
Sessions include:
High tech green landside and on-board solutions
Green logistics: multimodal supply chains
Preparing for the energy transition: dialogues across the industry
Measuring, learning and surveying emissions with smart technology
What can small ports to do to increase efficiency and cut costs? Our panellists draw from the two days of expert presentations.
Click here to view the final programme online.
Delegates at this year's GreenPort Congress will have the opportunity to take part in the Port Tour on board the MS Kongen, hosted by the Port of Oslo on day three of GreenPort Congress 2019.
To secure place on this fantastic visit, book your delegate place today!
To book your place, visit our website, contact the events team on +44 1329 825335 or email congress@greenport.com.