A Caribbean-located port has achieved Ecoports' Port Environmental Review System (PERS) certificate for the first time.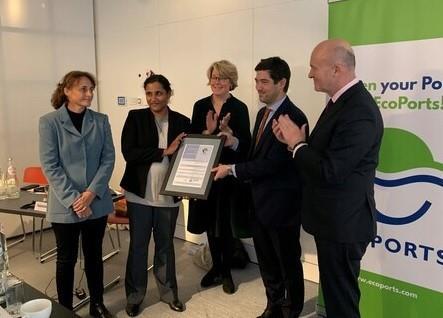 Port of Guadeloupe, part of an overseas region of France in the Caribbean, was presented with the PERS certificate during the ESPO General Assembly by the ESPO chairman, Eamonn O'Reilly; the ESPO secretary general, Isabelle Ryckbost; and the EcoPorts coordinator, Sotiris Raptis.
"I would like to welcome Port of Guadeloupe in EcoPorts and congratulate it for getting EcoPorts' environmental standard for the first time," said Ms Ryckbost.
"One of the main requirements of PERS is publishing its environmental report and communicating port's environmental policy to its stakeholders including industry and local community.
"PERS ports strengthen the EcoPorts Network and help us monitoring the environmental performance of the whole sector at EU level. I also welcome the explicit proposal of the Port of Guadeloupe to share their best practices with our membership."
Being PERS certified requires amongst others that the port increases transparency by making its environmental report publicly available. It also implies that the port is effectively monitoring the environmental challenges and is implementing an improved environmental management.
33 out of the 115 EcoPorts members have acquired PERS. Compliance with the PERS standard is independently assessed by Lloyd's Register and the certificate has a validity of two years. PERS is revised after the two-year period to make sure that the port continues to meet the requirements.