Gothenburg Port Authority has released its 2015 sustainability report, emphasising the port's success in becoming climate-neutral whilst highlighting challenges that remain for 2016 and beyond.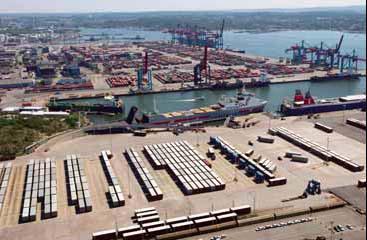 Key to this year's success is the port's achievement of becoming climate-neutral. By investing in solar panels, biogas, district heating and other environmental initiatives, emissions have been reduced to a minimum. The remainder will be offset by buying Chinese wind power.
Efforts have also been made to create sustainable incentives for other members of the port cluster, primarily through a strong focus on making the environmental discount in the company's port charge clearer and more predictable.
Magnus Kårestedt, chief executive of Gothenburg Port Authority, commented: "Sustainability issues in every shape and form are incredibly important to us."
"This is not only a way of assuming responsibility but also a competitive advantage. We constantly seek to be at the forefront and be proactive as shipping heads towards a greener future," he added.
This year is the first time the report has been prepared in accordance with the G4 guidelines issued by Global Reporting Initiative. These international standards make it easy to compare the company's status with other organisations, such as international ports, municipal companies and customers.
Looking to the future, an ongoing project to develop a new 220,000sqm area is due to be completed at some point after 2020. The new terminal will be constructed using surplus materials, including fly ash, blasted rock and dredging residue.
When the new area is constructed, areas of eelgrass will disappear from the seabed. Eelgrass, also known as seawrack, is a vital part of the ecosystem, acting as a nursery for several species of fish. To offset this loss, the port authority intends to replant the same amount of eelgrass that disappears from the site of the new development.
The report can be found on the port authority website.
Sustainability reporting is just one of the sessions to feature at the 11th GreenPort Congress. The full programme has now been released and the early bird rate is currently available – book now to save 20%. Preferential rates are available for participants attending both the GreenPort Cruise and GreenPort Congress. For more information contact the Events team on +44 1329 825335 or email congress@greenport.com. Follow the event on Twitter @GPCongress.