Greener hull cleaning is coming to the waters of the Port of Rotterdam courtesy of GAC EnvironHull.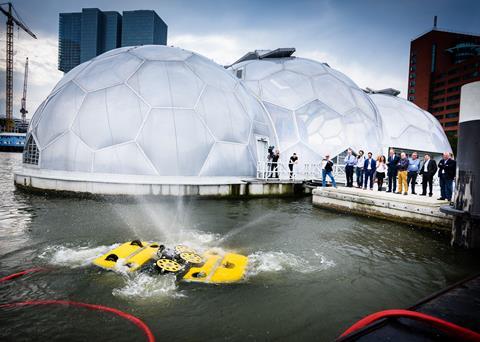 Peter Mollema, senior manager at the Port of Rotterdam said that the launch of the ground-breaking HullWiper technology at the port exactly aligns with Rotterdam's ambition to be the most sustainable port of its kind.
"There is a real and pressing need to decarbonise the shipping industry, and [HullWiper] is just one way that vision can be achieved," he said.
Christer Sjödoff, GAC's group vice president - commercial, added: "Ports around the world are under a lot of strain when it comes to the environment. New technologies and initiatives are contributing to a cleaner, safer and healthier shipping world – a world that GAC is an active part of."
Traditional hull cleaning operations using divers with brushes are prohibited within Rotterdam's port waters due to concerns about marine pollution. But this issue is removed with HullWiper's adjustable water-jet cleaning and debris collection systems.
The HullWiper launch and demo coincided with a 'Smart Ship Technologies and Measures for Greener Ports' discussion at the port which addressed the technological and regulatory pressures on ports and operators.
It also highlighted solutions to help vessel owners and operators save costs and remain compliant, particularly with regards to hull maintenance.
Mr Sjödoff was joined on the panel by experts from AkzoNobel's Marine Coatings Business, A.P. Møller-Maersk Shipping and the Port of Rotterdam.
HullWiper is seeing growing interest and uptake at the ports where it operates in the Middle East, Far East and Europe. One of Northern Europe's oldest ship owners has ordered hull cleaning in Singapore and in Rotterdam and is implementing a policy to use HullWiper to clean all its vessels.
In addition, a leading scientific marine consultancy has also expressed an interest in conducting a rigorous data analysis of HullWiper with a view to putting it to its customers as an efficiency solution.
Victor Schoenmakers, Director Corporate Strategy, Port of Rotterdam will be presenting at the GreenPort Congress from 12-14 October 2016. Entitled 'Mitigation, adaptation and decarbonisation at the Port of Rotterdam', the presentation will form part of the 'Ports of the future – dealing with climate change' session. The full programme is available here.
Book now to join port professionals from across the world. Preferential rates are available for participants attending both the GreenPort Cruise Conference and GreenPort Congress and members of supporting associations qualify for special rates. For more information contact the Events team on +44 1329 825335 or email congress@greenport.com.
Follow the event on Twitter @GPCongress.