GreenPort Congress 2018 was opened by an expert panel of port professionals who shared their views on the key factors affecting sustainability measures in ports.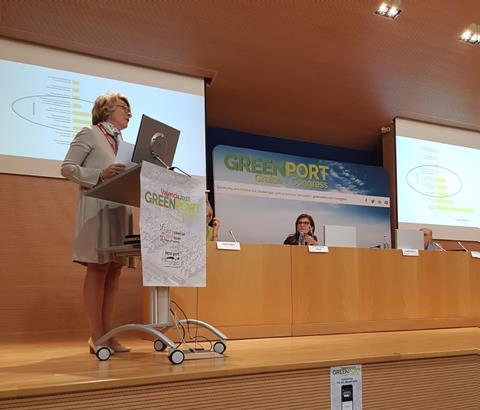 The day one moderator, Rachel White of ICHCA, encouraged a lively discussion throughout the opening morning of GreenPort Congress with many interesting questions being raised by the audience.
Videos from the opening session of GreenPort Cruise on 16 October are now available to view online. Take a look here!
Rosa Antidormi from DG Environment, Victor Schoenmakers from the Port of Rotterdam, Antonis Michail of IAPH and Isabelle Ryckbost of ESPO shared their knowledge on air pollution, climate action programmes and sustainability goals in European ports. The outcomes of this session had a clear message; that up until now, too little too late has been done to mitigate the impacts of climate change, however world ports are prioritising sustainability like never before.
Aurelio Martinez, the Port of Valencia Chairman offered his views on Valenciaport's role in the sustainability race and there was an undoubted sense of shared collaboration which came through.
Ryckbost presented the Ecoports report which establishes 10 key priorities for European ports – the results of this report will be available to download after the conference.
Victor Schoenmakers explained that despite the pressure on ports for sustainability, 89% of supply chain emissions come directly from shipping meaning it is clear that fighting the worldwide climate crisis will focus on the sea-side of ports, not just the terminals and land.
Keep up to date on the proceedings at this years event, follow us on twitter @GreenPortBiz and take a look at the videos and images on the website at www.greenport.com/congress/.