Day one of GreenPort Congress featured sessions on policy, challenges ahead, cost and efficiency in terminals and lastly a workshop offering a chance for the audience to take a view on the measurement and reduction of emissions, a topic that has featured heavily throughout the conference so far.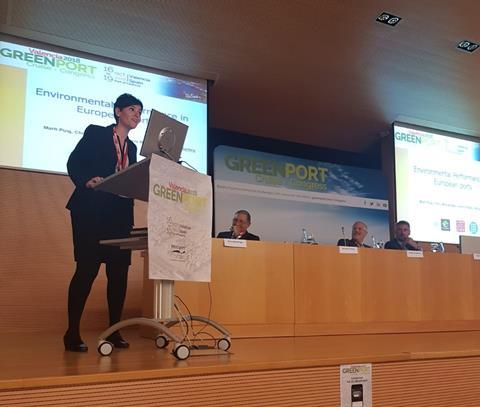 During a session on policy measures, Isabelle Ryckbost of ESPO covered three key messages in her presentation. Perhaps most notable, was the need for a dialogue in the energy transition which can be both costly and risky if channels of communication are not open with shipowners calling at the port.
Lamia Kerdjoudj-Belkaid from Feport shared a similar view to Isabel, explaining that good cooperation "does not stop at the gate", it is essential to ensure involvement across the supply chain, not only horizontally in the direct port land environment, but also vertically in the logistics chain beyond.
A session addressing the challenges ahead for ports and terminals centred around limiting emissions such as noise and air and the adoption of new fuels and featured ports and associations from across Europe who provided their opinion on how ports should confront new sustainability measures.
The final presentations of the day came from leading voices in the shipping and terminals industry, MSC, Grimaldi and EUROGATE, who covered the topic of environmental management in terminals and how to reduce costs and maximise profit in an industry which has an abundance of legislation.
The first day of GreenPort Congress saw delegates return to the Edificio del Reloj for the conference dinner, provided by our gracious hosts at the Port of Valencia. Guests enjoyed an evening of local delicacies and relaxed networking, as well as the presentation of the ESPO awards and a special announcement about 2019.
Day two of GreenPort Congress kicks off at 09:00 on 18 October. We look forward to seeing you there! Remember to keep up to date with conference proceedings on twitter @GreenPortBiz