The second day of the GreenPort Congress served to highlight that there is a still a major gap between green policy and practice which needs to be addressed.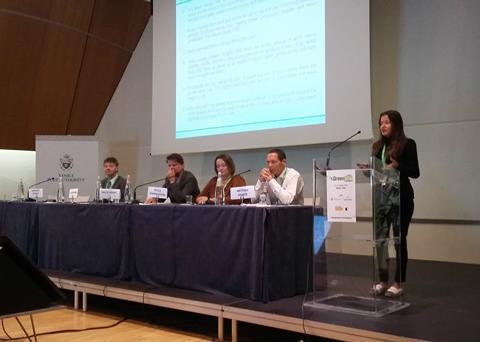 It was a chance to do some serious head scratching on the very current issues of the implementation of renewable energy, the Port Reception Facility Directive and port development.
Renewable energy
Session five focussed on alternative and renewable energy in ports.
Malte Siegert, Head of Environmental Policy, Naturschutzbund Deutschland (NABU) kicked off the debate with a talk about renewable energy in European ports.
And the message above all was persevere when it comes to renewables projects.
"Ports already are home to a variety of power production facilities but there are still legal impediments and rules that have to be eased to make putting things into practice easier," he said.
"The advice is to keep going. Renewable energy can help to ensure lower costs and reduce emissions."
He pointed out that there are both challenges and opportunities when it comes to the use of renewable energy. Challenges include consistency, investment, space and regulatory circumstances. Opportunities include reduction of fossil fuels, emissions, increased revenue, external funding and community partnerships.
Blue energy
Next up was a talk on 'Blue Energy: Wave Energy Implementation in Ports' by Inna Braverman, Co-Founder, Eco Wave Power, which stirred up plenty of interest from delegates.
She said that ports often focus on solar and wind power, when it comes to renewable projects, but rarely consider the benefits of wave energy.
The benefits to ports in installing a wave energy plant are a clean supply of electricity, an additional revenue stream for the port and the protection of the breakwaters against erosion.
In May 2016 Eco Wave Power launched its first 100KW plant in Gibraltar and it currently has 111MW of power plants on order from global ports located in Scotland, Israel, Cyprus, Chile and China
Ms Braverman said: "Why wave power, well it is not as dependent on the weather as wind or solar power, tidal power is continuous and therefore more reliable."
Port reception facilities
Session six on port reception facilities saw Antonis Michail, Senior Policy Advisor, European Sea Ports Organization (ESPO), take to the floor to give ESPO's position on the issue, in light of the ongoing revision of the PRF Directive.
"ESPO supports the provisions of the directive on waste reception and handling plans but open and transparent consultation is crucial. This will lead to better enforcement," he said.
"We favour a targeted revision which aligns scope and definitions with the IMO. The discussion of the inadequacy of port reception facilities also needs to be concrete and evidence based."
Mr Michail also spoke about fee systems, ESPO believes that a single fee system around Europe is neither realistic or justified.
During the discussion on port reception facilities, delegates emphasised the gap between policy and implementation was the trouble is it's difficult to come up with one piece of legislation that can solve every port's individual issues.
Working groups
The last part of the Congress was dedicated to port development working groups with a focus on protecting the environment.
On particularly interesting talk was given by Carrie Brown from the Port of Vancouver on ECHO – a port led collaborative initiative working to reduce cumulative noise impacts of commercial vessel activity on an endangered resident killer whale population.
Part of the project involves a four hydrophone array on the ocean floor which measures real time ambient noise and vessel source levels - the first non-military installation of its kind in North America.
Carrie Brown said: "The Port of Vancouver is focusing on developing a work plan around acoustic disturbance helping to inform potential litigation measures"
Linked to the project is an incentive programme called EcoAction which rewards quieter more environmentally-friendly ships.
One delegate asked if the Port of Vancouver has considered monitoring noise above the water level too? Ms Brown said that the port does have issues with landside noise so two years ago it installed 12 monitoring stations.
This means that the port can supply reports to vessel owners so they can act on any vessel related issue.
All of the studies conducted by the port will be available in due course on the port's website so that best practice can be shared across the industry.
Knowledge sharing
It's this sharing of best practice across the industry which may just help to bridge the gap between policy and practice.
All too often policy can be confusing and complicated where no clear direction on implementation.
The take home message from this year's Congress perhaps is that communication with all stakeholders at a port is key.
By sitting down around the table, these challenges can be largely overcome and the operation can become more efficient, competitive and greener, and that's a win-win situation for everyone.
Following the two day conference, delegates were then taken on a tour of the Port of Venice and were shown first hand StormWater Italia solution for dealing with stormwater runoff.
For further information about the conference contact the Events team on +44 1329 825335 or email congress@greenport.com.