GreenPort Cruise 2018 was opened by Michael McCarthy, Chairman of Cruise Europe, who touched upon the goals and priorities for cruise ports in the near future. McCarthy was joined by Valeria Mangiarotti, Director of Environmental Issues at Medcruise and Francesc Sanchez the Port of Valencia General Manager.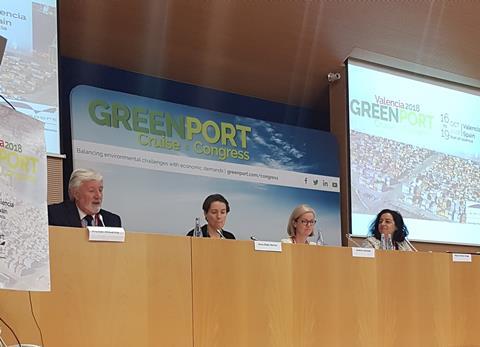 During his opening, Michael revealed the importance of the partnership between GreenPort and ESPO, whose own meetings take place during the event, explaining that the core value of GreenPort is ability to encourage knowledge sharing and the exchanging of views from across the industry.
In the inauguration of GreenPort Cruise 2018 speakers reaffirmed the essence of the conference: the notion of sustainability in ports. "Cruise ports dress green" will be the message conveyed by this year's event.
McCarthy continued by adding that "sustainable growth is on the agenda for every port, both European and worldwide, with decarbonisation at the top of the list for many ports".
Another point made during this year's chairman's welcome was that GreenPort 2018, and in fact many of the ports in attendance, will focus on green investments in areas such as LNG and onshore power, but the real challenge will be the decision on exactly which options to invest in.
Francesc Sanchez, the General Manger of the Port of Valencia, represented the host port and explained their activities in the cruise industry. Francesc estimated a growth of 3% per year in cruise traffic in Valencia and explained that the continued success of the industry in Valencia is down to the close collaboration between local citizens and the port.
Valeria Mangiarotti, offered the closing remarks to this year's opening session reinforcing earlier comments on the move towards decarbonisation being the biggest challenge for the cruise industry. The MedCruise study also featured in this session, explaining about the creation of an LNG map which shows the LNG readiness of Mediterranean ports.
One message was clear during the opening session of GreenPort Cruise 2018; that the cruise industry is ahead of the curve in terms of the interaction between clean ships and green ports, however, the survival of the cruise industry is dependent on its continued and increased operation in a sustainable environment.
Follow the event on twitter @GreenPortBiz