This is the final call for submissions for the 17th Edition of the Green Port Cruise & Congress on 18-20 October 2022, hosted by Port of Zeebrugge.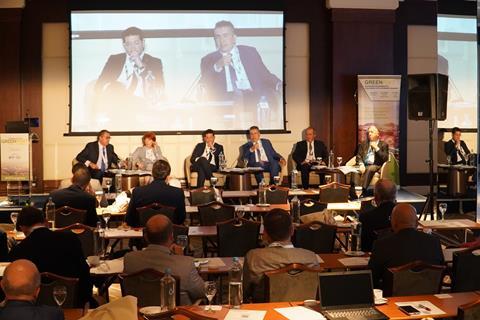 The GreenPort Congress brings together the whole port community and is a platform for the exchange of information on the latest in sustainable environmental practice. Running the conference for the first time to a hybrid audience in 2021 we welcomed attendees from 26 counties in Europe, North America, Asia and Oceania. The event helps maritime ports and terminals to reduce their carbon foot prints whilst becoming more sensitive to environmental considerations, which is vital to their future success.
To be considered to present to this strong audience – send your abstract now covering one of the following areas:
GreenPort Congress:
Fuel and energy provision for shipping
Fuel and energy for port operations (including hydrogen hubs, wind farms and electrification of port vehicles)
Sustainable Partnerships – Ports working together to meet sustainable targets
Ports and IT and AI - port process improvement and how digitalisation can be used for further improvement
Port:City:Logistics Chain collaboration – how port and city can work together to move cargo in a sustainable way
Monitoring of physical, chemical, and biological components whilst controlling their impacts
How to get ready for regulatory changes including Fit for 55 and EU Taxonomy
GreenPort Cruise:
Sustainable cruise projects in aid of being carbon neutral by 2050
Environmental Cruise Ships – including hydrogen fuelled ships
Legislation and cooperation in the cruise industry
Abstracts should be no more than 250 words and should be sent, with a biography of the speaker, headshot photo and logo, to Josie Gilchriest Jgilchriest@mercatormedia.com by 14th February at the latest.
For further information about speaking, sponsoring or attending as a delegate, contact the Events team on +44 1329 825335 or email congress@greenport.com