Shore power is growing in ports and resulting emissions reduction is driving adoption rapidly.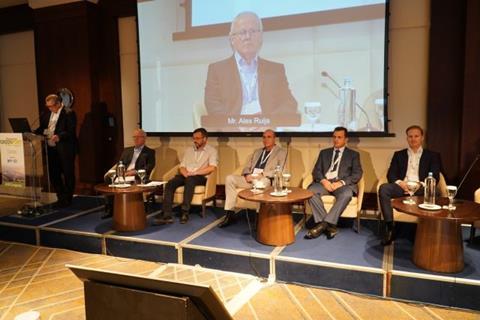 Delegates at the second day of the 2021 GreenPort Cruise & Congress heard how shore power technology and implementation is progressing, the latest on low and zero emissions equipment, what policy development in Europe means for ports and how digitalisation is improving efficiency.
Lamia Kerdjoudj-Belkaid, secretary general at the Federation of European Private Port Companies (FEPORT) discussed Europe's Green Deal and the 'Fit for 55' package.
On the subject of what action could be taken to achieve greening of the maritime logistics chain, she suggested six steps. One of these is making investment smart and market driven to avoid a waste of resources. "We must do better with less," she said.
Other steps include engagement of all players in the maritime logistics chain, proactivity in decarbonising operations and cutting emissions, good multimodal connectivity of ports, enhanced communication between interfaces and respect for schedules to improve reliability.
Addressing the EU's 'Fit for 55' proposals, FEPORT urges a number of measures. These include the Energy Taxation Directive allowing for a total tax exemption for OPS across all EU Member states; and recognition of the role of LNG and other transitional fuels and the need to build a business case on onshore power supply (OPS).
IAPH insight
Dr Antonis Michail, technical director, World Ports Sustainability Program, IAPH, provided an update on the IMO ISWG-GHG 10 to consider proposals for mid-term and long-term measures to reduce GHG emissions. These include a global levy and for EC and EU countries setting a low GHG fuel standard.
Ahead of the MEP 77 next month, IAPH has put forward the perspective of ports on mid and long term measures to serve an equitable energy transition of shipping.
Michail noted the importance of the recent call to action for shipping decarbonisation that has been signed by 150 companies including 16 ports and operators and is being supported by IAPH. The signees want to see government action to enable full decarbonisation of international shipping by 2050.
He also spoke about IAPH's collaboration with CEM Global Port Hydrogen Coalition to use its World Ports Sustainability Program (WPSP) as a platform to showcase and disseminate hydrogen-related projects in ports. "This is now up and running," Michail said. An MoU has been signed by over 40 ports and port associations, including IAPH.
ESPO eco priorities
Valter Selén, senior policy advisor sustainable development, Cruiser and Ferry Network, EcoPorts coordinator at ESPO, revealed the results of the latest ESPO Environmental Report, telling delegates that port waste remains the most monitored issue in ports and noise monitoring has increased amongst the ports included in the report.
OPS is on the rise. "Half of ports providing OPS, provide high voltage OPS. There is a trend towards more OPS," said Selén.
The report also found that 26% of ports are looking to increase their LNG facilities.
ESPO recently recognised the Port of Newcastle in Australia for its environmental efforts and Jackie Spiteri, senior manager Environmental Social Governance (ESG) at the port told Congress delegates about how the port aligns its ESG and diversification strategies with the principles of the United Nations Sustainable Development Goals, and its sustainability financing framework, that allows the port to link its financing with long-term environmentally and socially responsible projects.
"A genuine and robust ESG strategy is important to us," stressed Spiteri.
Real world shore power
Shore power project insights were provided by some of the companies working at the heart of shore power implementation in ports.
Alex Ruijs, senior consultant electrical power and energy at Royal HaskoningDHV explained comprehensive steps that can be taken in a shore power project. He highlighted the Port of Ijmuiden, at the entrance to the North Sea Canal area in Holland, as an example of a shore power project executed well.
He also discussed the use of batteries as a solution to electricity grid supply problems, commenting that as technologies and projects have progressed "attitudes to shore power have completely changed."
Klaus Kopelman, CEO of Shore-Link shared some examples of shore power projects that serve to bolster confidence in the technology. These include a 14.5MW ro-pax system at the Port of Tallin, and a current project in the Port of Alesund, Norway, that is due to be finished next year. Kopelman said a ferry study carried out by Shore-Link found shore power "payback could be achieved within two years.
Hamburg Port Authority's (HPA) environmental advisor, Jochen Homann, spoke about the MoU that HPA has signed with the ports of Rotterdam, Antwerp, Bremen and Haropa, to provide shore power to container ships by 2028.
HAROPA port has also made several large-scale shore power investments. Hervé GERAUD, OPS project manager at HAROPA port said there will be eight shore power terminals for river cruise by 2023 and 78 shore power terminals along the River Seine axis by 2023. He said key issues include the "taxes on the purchase and transport of OPS electricity and the need for significant public funding."
Electric excellence
A staple of port sustainability strategy has always been equipment, and experts in the field were on hand to talk about how investing in the right equipment can drive efficiency and cut emissions.
Miika Murremäki. Director, Digitalisation at Cargotec, Kalmar Mobile Solutions, stressed research has found the return of investment (ROI) on an electric reachstacker is substantial, with longer maintenance cycles and lower service costs. "Battery lifecycle value can be maximised by reuse and repurpose," he said.
Laurens Van Der Rijt, application project engineer at Hyster discussed the variety of options available for low and zero emissions equipment, stating bigger trucks using hydrogen fuel cells to support lithium-ion batteries have no loss of productivity. "The cost of hydrogen and electric will come down as volumes increase," he added.
Digitalisation benefits
The topic of digitalisation for improved port efficiency saw Dimitris Spyrou, EU projects consultant, strategic planning and marketing dpt. at Piraeus Port Authority, talk about the importance of the PIXEL project that uses the Internet of Things (IOT) for efficient data capture to improve the environment. PIXEL has been tested in the ports of Bordeaux, Monfalcone, Thessaloniki and Piraeus.
He also discussed the Green C-Ports Action project that will pilot the use of sensors, big data platforms, business intelligence tools and artificial intelligence modelling at the ports of Valencia, Venice, Piraeus, Wilhelmshaven and Bremerhaven.
GISGRO works with ports on digitalisation and Ville Makerlainen, chief business development officer at the company highlighted the fact that large ports have a monopoly on smart port resources due to the level of required investment and more human resources, but stressed how smart ports can benefit from this technology.
"0.5% of ports are large hubs and 45% of resources are used within this 0.5%."
The take home message was digitalisation is well worth the investment for its positive impact on sustainability and emissions reduction.