Taking the opportunity to put their name in front of all Greenport delegates, Hellenic Environmental Centre S.A (HEC) have sponsored the lanyards.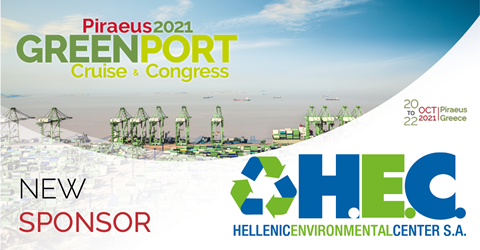 They are a waste management company with headquarters in Piraeus, Greece with offices & operations also in Hamburg and Gibraltar, HEC undertakes the collection, transport and treatment of oily waste and residues from vessels and land-based units, whilst developing and supplying alternative carbon fuel, following the principles of the circular economy.
HEC encompasses a visionary strategy based on corporate growth and reliable services, responding proactively and efficiently to the needs of its clients. They invest constantly in cutting-edge technology, breakthrough research and development, human resources' development and operations management. Responding to the increasing demands of environmental legislation and industry needs, they are distinguished by competitors and appraised from clients and partners, for creating a powerful shield for the environment.
The 16th Greenport Cruise & Congress will take place from 20-22 October 2021, bringing together the whole port community. In 2019 the conference welcomed 213 attendees from 28 counties in Europe, North America, Asia and Oceania. Conference attendees included 98 port authorities, as well as terminal operators, shipping lines, logistics operators and key cruise and commercial operators. At Greenport Cruise & Congress 2021, take the opportunity to visit HEC in the exhibition area.
For more information contact the team on +44 1329 825335 or email congress@greenport.com. To book online visit our website.