If you haven't booked your delegate place for GreenPort Cruise & Congress yet, do so today to claim your early bird discount! This week is your last chance to save 20% on delegate places for GreenPort Cruise, GreenPort Congress or the combined conference package.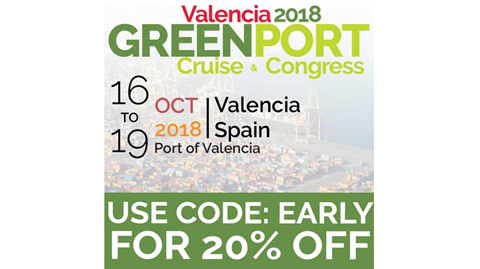 Join the industry at the 2018 GreenPort Cruise & Congress, attended by over 200 attendees, including 98 port authorities, terminal operators and shipping lines representing 30 countries in 2017. The conference brings together the whole port community and is a platform for the exchange of information on the latest in sustainable environmental practice and helps maritime ports and terminals to reduce their carbon foot prints whilst becoming more sensitive to the environmental considerations, which is vital to their future success.
Save up to €375 by booking today and using the code 'early'.
This year's conference concentrates on Profiting from Green Initiatives, addressing the ways in which costs and risks associated with the demands of compliance and sustainable development may be reduced to the mutual advantage of the port sector and the wider community – and the environment itself.
International environmental regulations are propagating a wave of change across the ports and commercial shipping sector. It is increasingly important for port authorities, terminal operators, shippers and logistics chains to work together to reduce their emissions and green their operations. GreenPort 2018 explores the ways that the costs associated with implementing compliance strategies can be reduced and benefit players across the ports sector.
The conference is hosted by the Port of Valencia, Spain from the 16-19 October 2018.
The GreenPort Cruise Conference will start with on Tuesday 16th October 2018, followed by the Welcome Reception that evening at Edificio del Reloj.
The GreenPort Congress Conference kicks off on Wednesday 17th October before delegates head to the Conference Dinner at Edifcio del Reloj del Puerto de Valencia that evening. Both the dinner and the reception are fabulous networking events and are included in the combined delegate attendance package.
On the final day, Friday 19th October, the Port of Valencia is hosting a port tour of their inner harbour area. Another great benefit included in the combined delegate attendance package!
To book your place visit www.greenport.com/congress/e-commerce/greenport-congress (remembering to use the code 'early') or call +44 1329 825335.
Follow the event on twitter: @GreenPortBiz