A new flagship from Germany's AIDA Cruises has become the first cruise ship to be operated by LNG at HAROPA - Port of Le Havre.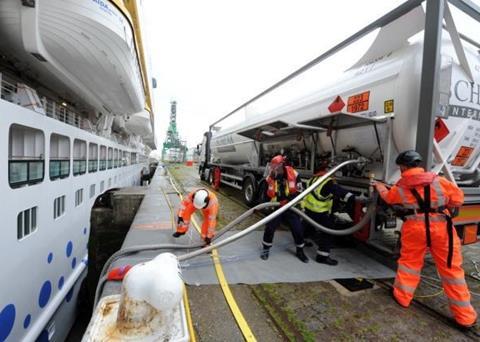 AIDAprima features a dual-fuel generator that can be operated with low-emission LNG during mooring time at the port.
"We believe in LNG as being the cleanest fossil fuel," said Felix Eichhorn, president of AIDA Cruises.
He explained: "With AIDAprima, we are the first cruise line to supply a ship with low-emission LNG for operation in port. I am convinced that our path is also a clear signal to the ports and LNG producers to invest in the necessary infrastructure."
The ship can be operated with LNG while docked at port if the port has managed specific risk assessments.
An average cruise ship spends 40% of its operating time in port, by using LNG nitrogen oxide emissions will be reduced by up to 80% and carbon dioxide emissions by 20%.
After finalising the preparations and initial permit procedures, the Port of Le Havre was able to welcome the liner.
LNG trucks ensured the LNG supply of AIDAprima in port, and the first test operation on 10 May was a success.
"Our approach is in line with the framework of the European policies," said Hervé Martel, CEO of HAROPA - Port of Le Havre.
He continued: "The solutions we offer meet the requirements of the Marpol VI international convention for sulphur emissions controlled areas (Seca) but also of the European directive about the widespread creation by 2025 of alternative fuels refuelling stations."
The European Commission, which financed 50% of the project, believes that the results achieved in in France can be useful to every shipping and port actor in the Union.
The preparations and initial permit procedures to replicate this for the ports of Hamburg, Southampton, Rotterdam and Zeebrugge are already well underway.
The use and supply of LNG as a fuel for ships will feature on the 2016 GreenPort Congress, the full programme has now been released and the early bird rate is currently available – book now to save 20%. Preferential rates are available for participants attending both the GreenPort Cruise and GreenPort Congress.
For more information contact the Events team on +44 1329 825335 or email congress@greenport.com. Follow the event on Twitter @GPCongress