This year's GreenPort Cruise conference, hosted by Copenhagen Malmo Port, kicked off on 6 October with the added addition of a live blog to keep the whole industry abreast of the latest in sustainability.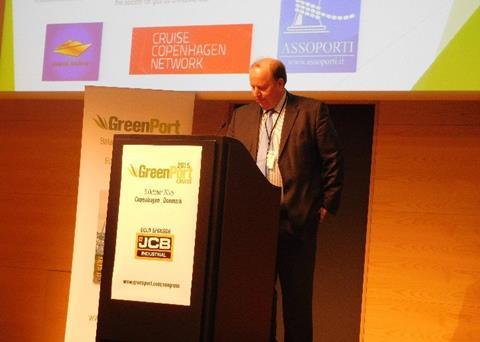 Patrick Hicks, founder of GreenPort and moderator of this year's GreenPort cruise event, kicked off the day's proceedings with a welcome and a quick introduction to the first panel.
ECA compliance
Arnt Møller Pedersen, COO Cruise and Ferries, from Copenhagen Malmo Port took to the stage in the first session to explain why Denmark punches above its weight in the maritime sector.
He said that the sulphur directive has already had a dramatic impact in Copenhagen with air sulphur levels down by 60% in the past year.
Daniel Rieger of German environmental agency NABU explained how the organisation is helping ports to measure air pollution in a bid to face up to the demands of cities.
He said: "Ports should incentivise first movers with privileges that can include cheaper fees or cheaper bunkering and they should make low-sulphur fuels and exhaust gas after treatment mandatory for entry into port."
Dealing with waste
Thanos Pallis, secretary general of MedCruise, began the second session of the day with a discussion of the issues surrounding the treatment of waste from cruise ships.
First up was the Baltic perspective from Bogdan Ołdakowski, secretary general of the Baltic Ports Organization.
He said that use of sewage reception facilities in Baltic ports by cruise ships in 2014 was restricted to 30.7% of all calls.
But by July 2019 all new ships must deliver waste to port reception facilities, so there is no doubt that such measures will lead to a cleaner sea, he said.
Dr W Chen, future program development manager for Wärtsilä Water Systems, took a look at the management of cruise ships' black and grey water.
Most cruise ships have only enough storage space for two or three days. But constraints will become tighter under Marpol Annex IV.
Innovative terminal designs
Session three on innovative cruise terminal designs saw Yoss Leclerc, VP and chief of maritime operations, Quebec Port Authority, outline the planned expansion of the Ross Gaudreault Cruise Terminal.
The complexity caused by handling up to eight vessels a day, along with the increasing size of cruise vessels, is a challenge that the port authority must address.
"For several years we have tried to bring outside actors into the cruise industry," said Mr Leclerc. "2014 was the first time we were able to bring not just the marine sector but also the province and the federal government to engage in a discussion on cruise operations."
Panel discussion
Session four saw a panel discussion take place which focused on collaboration between cruise lines, cruise terminal operators, port authorities and port cities.
Adam Sharp, head of port operations & guest port services - EMEA, Royal Caribbean Cruises summed up the feeling of the day quite well in his statement:
"There's starting to be an assumption that we should be doing our utmost [on sustainability] whether or not there's a tangible advantage in customer perception."
For more information about the GreenPort Cruise Conference contact the Events team on +44 1329 825335 or email congress@greenport.com.