The Port of Valencia, GreenPort Europe's 2018 host port handed over to the 2019 European hosts during the conference dinner which took place at the Edificio del Reloj on 17 October 2018 after the first day of GreenPort Congress.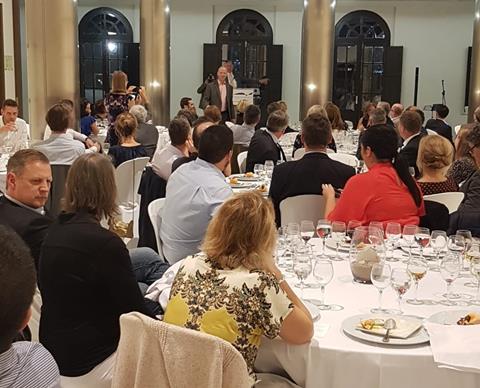 After a welcome from the Port of Valencia Chairman, Aurelio Martinez and the presentation of the ESPO PERS Certificates by Sotiris Raptis, Senior Policy Advisor for Environment and Safety and Ecoports Coordinator at ESPO, guests enjoyed a fabulous dinner provided by the host port – Valenciaport.
Later that evening Chris Wooldridge, Honorary Research Fellow, School of Earth and Ocean Sciences, Cardiff University took to the stage to announce the very special news that the Port of Oslo would be the hosts of the 2019 GreenPort Cruise & Congress Europe.
Ingvar Mathisen, the Port Director at Oslo expressed his excitement that the event would be coming to Oslo in 2019 and wished everyone a pleasant conference here in Valencia.
GreenPort 2018 continues on 18 October and will provide delegates with a final day packed with presentations.
Keep up to date on plans for next year's conference and news from GreenPort Valencia 2018 on the GreenPort Website.
For more information about how you can participate in future editions of GreenPort contact the team on +44 1329 825335 or email congress@greenport.com