The Port of Antwerp has confirmed it is to conduct trials of fixed-wing drones fitted with cameras to assess the potential of the technology to enhance real-time, on-site security activities.
The port is partnering with aerospace specialist company, Sabca, to undertake the process.
The unmanned drones are able to remain in the air for more than eight hours and can take high-quality images from heights of up to 280m.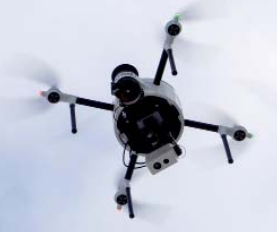 This allows a wide-range of tasks to be undertaken throughout the port estates, including inspecting infrastructure, monitoring and surveillance, incident management and better detection of floating waste or even oil spillages.
Thibauld Jongen, CEO, Sabca explains the value of the technology.
"Drones will be indispensable in the near future when performing high-risk tasks. By carrying out these demonstrations in collaboration with the Port of Antwerp, we are able to show that we can make various operations safer and more efficient by using unmanned aircraft for inspections, transporting goods and surveillance."
The tests are also covering realistic emergency scenarios that could occur in the port, such as a container fire, rescue of an individual overboard from a vessel and a drowning person in the dock.
Bob Spanoghe, Innovation Platform Manager, Port of Antwerp, notes:
"Given the huge surface area of the port, drones provide us with leverage when it comes to carrying out our core tasks as a port authority. Our goal is to put in place an operational network of drones by 2022 in order to provide a 'live feed' of the various port activities. As a tool, this will enhance the work carried out by the entire port community. That will enable us to have a more accurate sense of what is going on within the port and as we work towards a safe, efficient, and smart port – the port of the future.