Wind Europe says Europe urgently needs to invest in port infrastructure to support a massive expansion in off shore wind. Felicity Landon reports.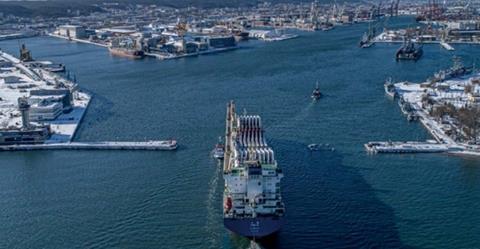 Europe's ports need to invest €6.5bn between now and 2030 to support the expansion of off shore wind, according to a new report from Wind Europe – which says the investment could be paid back in just five years and would bring signifi cant savings for electricity consumers and society as a whole.
In 'A 2030 Vision for European Offshore Wind Ports', Wind Europe says that the volume of offshore wind in Europe needs to rise from 25 GW to 110 GW in the next ten years to meet the EU target of 38-40 per cent renewable energy by 2030. Overall, the EU goal of climate neutrality by 2050 requires a 25-fold increase in offshore wind, it says.
At present, Europe's ports support the deployment of 3 GW of new offshore wind farms every year – by 2030, they will need to be supporting the deployment of 11 GW of new offshore wind farms every year, says the report.
"Ports are central to the development of offshore wind. They play a key role for the local supply chain, logistics and supporting infrastructure. Ports are where operation and maintenance of offshore wind farms are run, where all offshore wind turbines and other equipment get transported, and where floating turbines are assembled. And they will have a prominent role in the production and distribution of renewable hydrogen."
However, it warns, ports can only deliver the services required if they make significant investments to upgrade and expand their infrastructure. "Crucially, ports need to expand their land, reinforce their quays, enhance their deep-sea berths and carry out other civil works. They need to do this to cater for the operating and maintaining of a larger fleet (including training facilities), for upcoming decommissioning projects and to host new manufacturing centres for bottom fixed and floating offshore wind systems. Ports also need to diversify their activities to support the decarbonisation of industries, transport and heating in coastal areas."
Wind Europe says space is and will become a bigger issue for ports, not only on land but also on water – and to overcome this, ports will require "new strategies and regional collaboration efforts".
SIX COUNTRIES
Six countries – the UK, Germany, the Netherlands, Denmark, France and Poland – will together account for 85% of the total capacity across Europe, says the report, although at present France and Poland have no offshore wind farms so face a particularly big challenge in terms of strengthening the sector.
The UK Government has set the highest benchmark with a 40 GW target by 2030, including 1 GW of floating wind. Germany is committed to 20 GW and the Netherlands has clear plans to expand offshore wind to 11.5 GW by 2030; Denmark has plans for two energy islands in the North and Baltic seas, totalling more than 10 GW of wind power. Poland aims to add 5.9 GW and France could have 7.5 GW by 2030, says the report.
Eighty percent of all installations in Europe over the next five years will be in the North Sea.
PORT PLANS TO FACILIATE OFFSHORE WIND GOALS
The following highlights, on a country-by-country basis, major port developments and plans to support national commitments to achieving ambitious investments in off shore wind: 8 Poland: "A Big Challenge…" Poland has set in motion port reconstruction works to support its commitments to offshore wind developments in the Baltic Sea. In May, politicians approved plans for the development of port service centres at Ustka and Łeba, which have been allocated about €430m each.
The construction of an offshore wind farm installation terminal at Gdynia was confirmed earlier in the year – the 30-hectare facility will enable the simultaneous handling of two installation units. The port is collaborating with Danish
EU: a 25-fold increase in offshore wind is required
turbine manufacturer Vestas, discussing the requirements of an offshore wind pre-assembly site.
While its first phase of offshore wind subsidy allocation is for 5.9 GW, the Polish government says 8-11 GW of offshore wind capacity will be installed by 2040.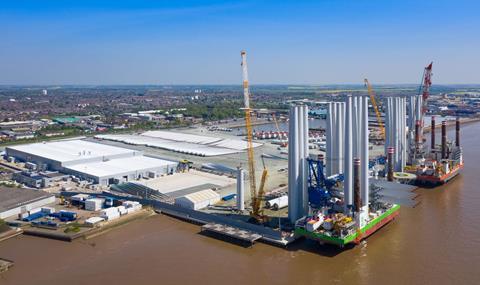 Denmark: "Best in the Baltic" Ambition
The Port of Roenne, on the Danish island of Bornholm, has been selected as the turbine installation port for Iberdrola's Baltic Eagle offshore wind farm.
The 476 MW project is being developed off the island of Rügen, in the German waters of the Baltic Sea. All 50 Vestas wind turbines required will be assembled and installed from Roenne. The project is due to be competed in 2024.
Roenne recently signed an agreement with construction company MT Højgaard Danmark for an extension of its outer pier by 450 metres. The expansion is the second stage of the port's master plan – as well as helping to secure the future of the commercial port function on Bornholm, developments will provide extra berthing and land area for the installation of large offshore wind turbines.
There is also an option for building an additional 300 metres of heavy cargo quay. "With the forthcoming expansion, we as a port can continue the growth we are experiencing within offshore wind on Bornholm," said Thomas Bendtsen, Port of Roenne CEO. "Our ambition is to maintain the position as the most attractive port in the Baltic Sea to install offshore wind."
UK: Ramping up Port Capacity
Siemens Gamesa is investing £186m in an expansion which will double the size of its wind turbine factory in Hull.
The development will create 200 new jobs (on top of the present 1000) and enable the manufacture of the next generation of offshore wind turbines and blades greater than 100 metres, says the company. Due to be completed in 2023, the expansion will take the Hull facility to 77,600m2.
The Siemens Gamesa facility, opened in 2016, has manufactured more than 1,500 wind turbine blades for customers in the UK and Europe. Three complete offshore wind power plants have been dispatched from site, where other activities include assembly of offshore wind turbine towers and loading of offshore wind installation vessels.
Siemens Gamesa has an offshore wind power orderbook of €9.4 billion. The Hull facility is producing blades for the 1.4 GW Hornsea Two windfarm – when complete in 2022, this will be the world's largest offshore wind power plant, with 165 wind turbines providing enough power for more than 1.3m homes.
On the south bank of the Humber, meanwhile, GRI Renewable Industries (GRI) is to build a £78m wind turbine tower factory at the Able Marine Energy Park in Killinghome.
Ardersier Port, in Scotland's Moray Forth, has changed hands this year and its new owners are planning to redevelop the former McDermott fabrication yard into "Europe's leading decommissioning, floating wind, fixed wind and hydrogen facility".
Business partners Tony O'Sullivan and Steve Regan bought the port from Clowes Developments for an undisclosed sum.
Ardersier Port is the largest brownfield port in the UK – with 400 acres of land, a 2.2km quay and 350 acres of water within the statutory harbour authority area.
The Port of Tyne has been chosen to be the maintenance base for the world's biggest wind farm. The Dogger Bank wind farm in the North Sea, which will generate enough electricity to supply more than 4.5m homes in the UK, is being developed by power companies Equinor and SSE Renewables.
X1 Wind works with Las Palmas
X1 Wind has been working closely with the Port of Las Palmas in its project to demonstrate the X30 floating wind platform in open ocean waters. The X30 prototype integrates a PivotBuoy mooring system, an adapted Vestas V2 turbine and all the required control systems.
Las Palmas was used for the final assembly and loadout of the floating platform – which arrived from mainland Spain in modules and was assembled using a local supply chain. "We have been supported by local suppliers with available equipment on the island – for example, regular mobile cranes from Liebherr," said a spokesman for X1 Wind. "Additionally, we are in permanent contact with the port authorities and the shipyards for all the operations concerning both assembly and installation of the prototype. X1 Wind's approach mobilising and engaging local supply chains is a key feature of its future fabrication and deployment plan for full-scale units. Aside from stimulating local economies and driving job creation, it further reduces transit times, helping slash costs and carbon emissions for future projects."
Las Palmas port was chosen as the nearest large-scale harbour to the PLOCAN (The Oceanic Platform of the Canary Islands) offshore test site for the PivotBuoy deployment. "Furthermore, the port and the local suppliers offer a wealth of services, technology and knowledge acquired from the oil & gas industry, due to the large amount of offshore platforms which are managed there," noted the spokesman.
"In addition, Gran Canaria has several onshore wind turbines with local companies delivering installation, operations and maintenance support services. We can harness this local skill, knowledge and experience for all the turbine related tasks and operations."
In early September, the part-scale prototype was in the port of Las Palmas waiting for the summer's windy conditions to come to an end. "While the platform is going through part of the PAT (Port Accepting Tests), the electrical cable and anchoring system is being prepared and will be installed sometime in September/October. However, the upcoming operation will focus on the rotor assembly of the Vestas V29 turbine, adapted in a downwind configuration, which will happen in tandem. The platform installation and commissioning is expected to take place by the end of autumn.