TCP, the Paranagua (Brazil) container terminal operator, is to establish a permanent presence in Asuncion as part of efforts to consolidate and expand Paraguayan container traffic
Owners of the Brazilian Paranagua container terminal (TCP) are so convinced they are in for the long haul when it comes to handling boxes to/from Paraguay that the company is setting up an office in Asuncion in 2022.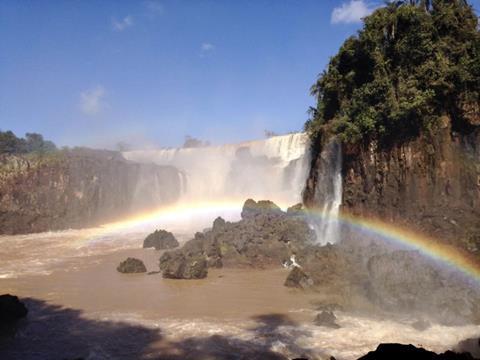 TCP, which is fully owned by China Merchants Port Holdings (CM Port), has picked up an extra 30,000TEU per annum since the Parana River basin drought kicked in two years ago and its management believes that – via an efficient trucking and railroad operation – a good percentage of those boxes will keep flowing down to Paranagua, in the southern Brazilian state of Parana.
Historically, Paranagua has been an "alternative route" for Paraguayan cargoes, especially soya. The world famous Foz do Iguacu waterfalls and Itaipu Dam are on the borders of the two countries, transport links between them are good and it was natural step for Paranagua to become a gateway for soya cargo. However, 15 years ago the "famous" Requiao brothers (Eduardo as President of Paranagua Port Authority APPA and Roberto as Governor of Parana State), decided to end the arrangement as they did not want "transgenic" soya from Paraguay mixing with "non-transgenic" soya from Brazil.
With the Requiao brothers - who held power in Parana for the best part of 10 years – now long gone, the interests of TCP's Chinese owners are pointing towards total infrastructure investments and, eventually a Belt and Road initiative that will end up connecting the East Coast of South America (ECSA) with the West Coast South America (WCSA), thereby making exports/imports to China far cheaper. With Asuncion encouraging links with the port of Valparaiso, in Chile, this project comes closer to fruition. Even before Chinese investment exploded in South America, local shippers were dreaming of the time a Bi-Oceanic Corridor would connect the two coasts.
Thomas Lima, Commercial Director, TCP, notes that the local Novo Ferroeste railroad that currently connects Paranagua to Cambe in Brazil some 500km away, will soon be extended to Foz do Iguacu and Guaira on the Paraguayan border, and close to that country's second largest city of Ciudad del Este (310,000 inhabitants) which is an electronics boom town. TCP also acts as the gateway port for much cargo emanating from/destined for Asuncion, the capital (three million inhabitants including conurbation). For beef exports Paranagua is identified as a good match as it has close to 4000 reefer plugs. Electronics and white goods from the Far East are the main imports into the landlocked country, with Ciudad del Este one of the main destinations and its proximity to TCP seen as a bonus.
"We have been rapidly increasing our business with Paraguay over the past year and opening a new office in Asuncion will help cement that," emphasises Lima. "Extra railroad connections will also help.