The Port of Zeebrugge has extended the concession to manage the CSP Zeebrugge terminal by 15 years.
COSCO SHIPPING Ports will continue operating the port in Belgium until 2055.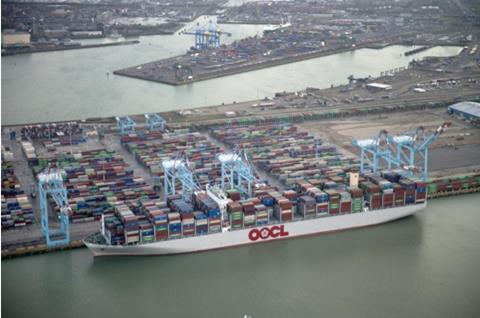 Zhang Dayu, managing director of COSCO SHIPPING Ports, said that the terminal had experienced strong growth in recent years. "In 2021, CSP Zeebrugge Terminal enjoyed a 53% increase in volume to approximately 930,000 TEU, which would not have been possible without the excellent corporation between the Port of Zeebrugge and COSCO SHIPPING Ports," he said.
CSP Zeebrugge Terminal is the first subsidiary of COSCO SHIPPING Ports in Northwest Europe and the company has an 85.45% stake in the terminal. The terminal has a quay length of more than 1,200 metres and a 17.5 metre depth. It has three berths and can accommodate mega-vessels.
A key transportation hub, the terminal is convenient for both continental Europe and the UK. "The extension of the concession term offers new opportunities for the port of Zeebrugge in the near and distant future," said Tom Hautekiet, chief executive at the port.
"The strong growth in the share of deep-sea container traffic resulted in an increasing interest of other shipping companies and services for the Zeebrugge port system. Together we want to lift the pioneering role of the port of Zeebrugge for international logistics to a higher level and optimise the port infrastructure within the framework of our intended 'clean port strategy'," he added.
COSCO SHIPPING Lines and OOCL, as well as the Ocean Alliance all operate out of CSP Zeebrugge Terminal. Under the existing agreement, the concession of CSP Zeebrugge Terminal is 36 years, from 2005 to 2040.