Download the detail from the 2016 GreenPort Cruise and GreenPort Congress – over 50 papers and presentations are now available, which includes keynote speeches and the working groups findings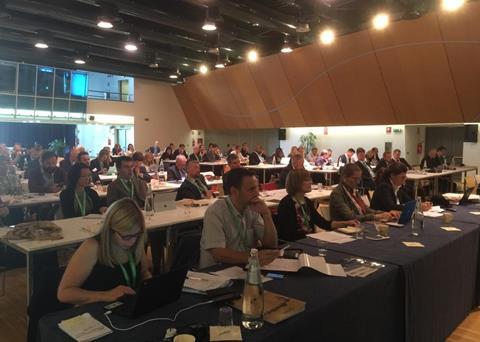 Highlights of this year's Cruise Conference include:
Tom Strang, Senior Vice President Maritime Affairs, Carnival Corporation: Carnival Cruises - opting for LNG as a solution to ECA compliance
Manfred Lebmeier, Head of Environmental and Spatial Strategy, Hamburg Port Authority: Green Cruise Project - Sustainable energy, Innovative terminal facilities and cruise terminal traffic links
Carla Salvado, Director of Criuse Marketing, Global Ports Holding: Green initiatives at Global Ports
Thomas Kopel, Energy Management, Siemens: Cutting ship emissions in ports
Jan Erik Granholdt, Director, LNG Hybrid: Hummel Hybrid Barge - feedback on the first two years' operations
Andrés Molina, Project Manager, Peace Boat Ecoship: EcoShip - an alternative futuristic approach
Read the full report of the this year's Cruise Conference here.
The 11th GreenPort Congress was hosted by Venice Port Authority and included the following presentations:
Jan Brooke, Environmental Consultant and UK representative on PIANC's Permanent Task Group on Climate Change: Introduction to the outcome of the Paris Agreement, December 2015
Charles Haine, Director, Responsible Finance: The unseen impact of construction in port development. Findings ways of mitigating GHG emissions and planning for climate change adaptation.
Petra Konig, Environmental Manager, Copenhagen Malmo Port and Ellen Corke, Malmo Port: Industrial symbiosis at the Port of Malmo
Victor Schoenmakers, Director Corporate Strategy, Port of Rotterdam: Mitigation, adaptation and decarbonisation at the Port of Rotterdam
Linda van Waveren, Manager CSR, Port of Amsterdam and Dorita Hermes, Environment & Sustainability Manager, Port of Hamburg: The need for disclosure of port performance on sustainability
Inna Braverman, Co-Founder, Eco Wave Power: Blue Energy - Wave Energy Implementation in Ports
Anna Bobo Remijn, European Commission, Directorate-General for Mobility and Transport, Maritime Safety Unit: Port Reception Facilities revision
Julia Mackin, Principal Environmental Adviser, European Bank for Reconstruction & Development: Port Expansions in the context of financing by EBRD, a Multilateral Development Bank, and its sustainability mandate
Silvia Gamboa, Head of Sustainability, APM Terminals: Achieving the UN Sustainable Development Goals through Port Activity
Keita Shinohara, Certification Manager, Green Award Foundation: Recognising quality ships with a CSR platform
Jouni Kyllonen, Sales Director, Solution Sales and Marketing, Automation & Projects, Kalmar: Green Terminal technologies
Full reports of both days of this year's GreenPort Congress are available online – day one and day two.
Gain access to the presentations given at the GreenPort Cruise Conference and GreenPort Congress here!
For further assistance please call the Events team on +44 1329 825335 or email congress@greenport.com.