Ecoslops has said that construction has started on the first industrial unit of its compact micro-refining unit which regenerates oil wastes and residues into 2nd generation petroleum products.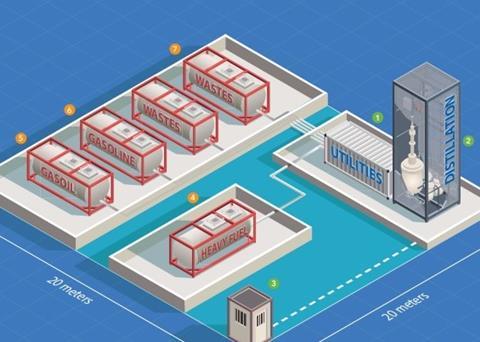 The company, based in Paris, France, said that construction of the Mini-P2R for medium-sized ports began after conclusive tests carried out in 2019 on the pilot version. Ecoslops signed an agreement with Aqua Flore, based at the Port of Agadir, Morocco, to commission the Mini-P2R in the second half of 2020.
"An agreement was signed with the company "After a conclusive test phase, this agreement will result in a sale or lease. This world first will serve as a point of reference for the various identified prospects," said Ecoslops.
The technology used in the MINI-P2R is based on the P2R (Petroleum Residue Recycling) process, successfully operated by Ecoslops on an industrial scale since 2015.
Antwerp waste efficiency
Ecoslops Flanders, a wholly-owned subsidiary, has been set up in Belgium. This subsidiary will operate the micro-refinery unit with a production capacity of 60,000 tonnes/year, at the site of ATPC, a subsidiary of VTTI group, in the Port of Antwerp. The permits are expected to be obtained in mid-2021, with construction finalised and commissioning in mid-2022.
Construction of a 30,000 tonnes/year unit in Marseille is underway, in collaboration with teams from the Total group, a 25% shareholder in the Ecoslops Provence subsidiary. The assembly of the P2R unit is currently under way and commissioning is anticipated for mid-2020. The aim of this unit will be to process slops unloaded in the Port of Marseille and in neighbouring ports.
A feasibility study was submitted to the Suez Canal authorities in November 2019. This project initially provides for the installation of means of collection (barge), reception and water/hydrocarbons separation utilities. The next discussions will focus primarily on financing this collection infrastructure, a prerequisite for the subsequent installation of a P2R.
Ecoslops said it is in pre-project phase in areas of very high potential for the P2R, Asia in particular, and is continuing to develop a portfolio of prospects for the Mini-P2R.