Koen Overtoom, CEO since December 2016, will share the 'Sustainability ambitions and challenges of the port of Amsterdam'. The port of Amsterdam is one of the largest energy ports in Europe and delegates will learn about the port's challenges but also its best practices. Book now to guarantee your place.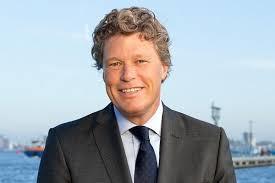 As a port which is interwoven with the capital of the Netherlands, the Port of Amsterdam is the binding factor between customers, sectors and society, a position which brings challenges. Known as the 'Port of Partnerships', it believes that nowadays issues are too complex to fix in isolation. Therefore, the Port actively seeks dialogue and partnerships with its peers, customers, civil society organisations, knowledge institutes and authorities to further promote sustainable growth.
Entitled 'Creating partnerships for sustainable development' the 2017 GreenPort Congress aims to bring together port stakeholders to encourage dialogue between them that will bring solutions to topics such as Port-City integration, transition, change and feasibility.
The programme will also feature interactive presentations, discussion sessions, working groups and more, with the aim of equipping participants with key learning points that will ultimately reduce costs, delegates will benefit from enhanced networking and knowledge sharing opportunities.
The early bird delegate rate is currently available, book your place now and save 20%.
For further information contact the Events team on +44 1329 825335 or email congress@greenport.com.
Follow the event on Twitter @GPCongress.