The 'Port of partnerships' looks forward to bringing all members of the port community together at the GreenPort events this October, to explore, share and work together, with the aim of all to become leading sustainable ports and terminals of the world.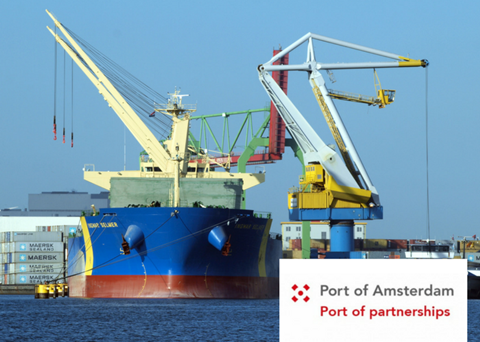 Like other port communities, the Port of Amsterdam believes the issues facing ports and terminals today are too complex to fix in isolation and actively seeks dialogue and partnerships with peers, customers, NGOs, knowledge institutes and authorities with the aim of promoting continued sustainable growth. As well as its location in the capital of the Netherlands, which in itself brings challenges, the Port of Amsterdam is also one of the largest energy ports in Europe. It is therefore well aware of growing concerns about ports' environmental impact and of the effect that fossil fuels have on climate change.
Attendees at this year's GreenPort events can look forward to a highly interactive programme which will facilitate the joint aim of GreenPort and Port of Amsterdam of sharing ideas and insights on topics such as Port-City integration, transition and change and to answer the call "How can we support each other to reinforce one another in creating the next level?" which will be of benefit to all concerned.
View the full Invitation from the Port of Amsterdam here.
The Call for Paper topics have been released – for details and to submit your abstract, follow this link for further information.
For further information contact the Events team on +44 1329 825335 or email congress@greenport.com.
Follow the event on Twitter @GPCongress.