Exhibition of the top 50 pictures of #MyPortForTurku photo competition organized by the European Commission to celebrate the 2016 European Maritime Day.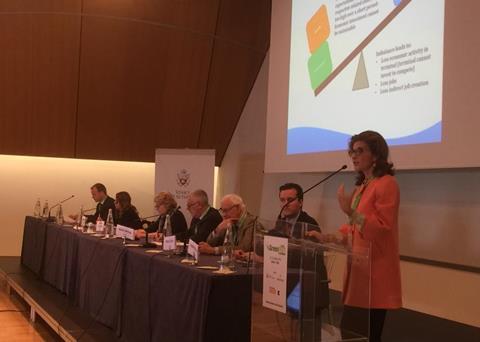 This Spring the European Commission Directorate General for Maritime Affairs and Fisheries, DG MARE, launched a photo competition on social media (Facebook, Instagram and Twitter) and the Port of Venice was one of the sponsors of the event.
From 21 March to 25 April 2016, European citizens were invited to send to DGMare photos of their favourite ports from Europe using the hashtag #myportforTurku. With this initiative, DGMARE was wishing to show some of the 3,000 nautical, fishing, historical, cruise, inland and shipping ports connecting Europe.
It was also a way to wish good luck to the city of Turku, the oldest port in Finland hosting the European Maritime Day from 18 to 22 May. European Maritime Day, officially established on 2008, is celebrated annually across Europe on 20 May to raise the visibility of maritime sectors and support an integrated approach to maritime affairs.
The competion had a huge success and DGMARE received 579 astonishing pictures, representing 166 ports, from 234 authors from 24 countries.
The 50 best pictures selected by an international jury went on display in Turku during the European Maritime Day and then in several other European locations throughout 2016.
The Port of Venice was pleased to host the 50 top pictures, on the occasion of the Green Port Congress 2016. The Port of Venice was one of the 5 most represented ports, and one of the 33 ports represented in the exhibition.
The picture by Mr Riccardo Roiter was among the 10 most voted by the European Maritime Day participants and won an extra special prize.
For more information about #MyPortForTurku please contact Alessia on +39 041 5334609 or alessia.deboni@port.venice.it. For more information about GreenPort Congress, please contact the Events team on +44 1329 825335 or email congress@greenport.com.