The ports of Calais, Cork and Moerdijk all received recognition for high environmental standards during the Gala dinner at this year's GreenPort Congress in Barcelona.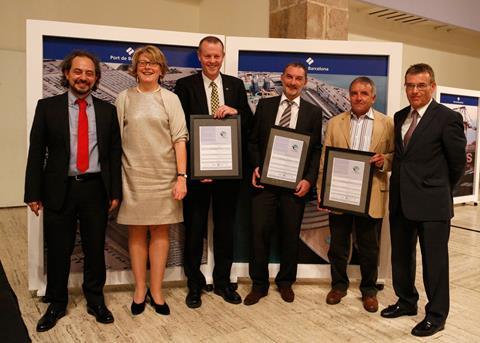 All of the ports were recognised as 'EcoPorts' under the Port Environmental Review System (PERS) certification, managed by the European Sea Ports Organisation (ESPO).
ESPO said that the three ports has been among the most ambassadors of the EcoPorts tolls approach – which is ESPO members' port sector specific environmental management standard.
This is the fourth consecutive time that Cork in Ireland and Moerdijk in The Netherlands have attained PERS certification. Calais in France meanwhile has received the certificate three times in a row since it signed up to the scheme in 2010.
Compliance with the PERS standard is independently assessed by Lloyd's Register and has a validity of two years. There are currently 20 ports in Europe that hold a valid PERS certificate.
Outside of Europe, there is also plenty of interest being shown in the scheme. Two years ago the Port of Santa Marta in Colombia became the first port outside of Europe to adopt the EcoPorts standard.
Dr Chris Wooldridge, science coordinator and senior trainer at ECOSLC, which has approval to deliver the EcoPorts tool worldwide, told GreenPort that there has also been interest shown from Asia.
It's hoped that the EcoPorts tool will attain an even more global reach in future helping to standardise environmental management at ports around the world.