During the official dinner at the GreenPort Congress in Copenhagen on Wednesday 7 October, ESPO was delighted to congratulate the ports of Le Havre (France) and Nantes-Saint-Nazaire (France) for achieving the Port Environmental Review System (PERS) certification.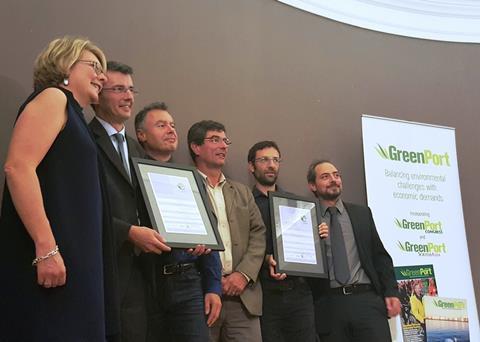 ESPO Secretary General, Isabelle Ryckbost, presented the PERS certificates to the port representatives, Mr Pascal Galichon (Director of Environmental Department, Le Havre), Mr Jean-Paul Raffini (Deputy Head of Environmental Department, Le Havre), Mr Antoine Delouis (Deputy-Director of Territoris, Access and Environment, Nantes-Saint-Nazaire) and Mr Mathias Guerin (Project Manager, Nantes-St-Nazaire).
Receiving his certificate, Pascal Galichon said: "The EcoPorts tools SDM and PERS were very useful to us both in raising environmental awareness within the port and in communicating with our stakeholders. We are delighted to be certified and we highly recommend the EcoPorts approach to our fellow ports."
Highlighting the importance of the EcoPorts network, Mathias Guerin said: "Besides the usefulness of PERS as the only port sector specific standard, the real added-value of EcoPorts is the network itself. It is great to be able to work and share experiences with fellow port professionals."
Both ports get certified for the first time and ESPO is delighted to congratulate them for this achievement and to welcome them to the distinguished network of PERS-certificate holders.
PERS is the only port sector specific environmental management standard. It is the flagship product of the EcoPorts network and is offered as part of ESPO services to its members through the EcoPorts website. Compliance with the PERS standard is independently assessed by Lloyd's Register Quality Assurance and the certificate has a validity of two years. There are currently 20 ports in Europe that hold a valid PERS certificate. ESPO is delighted with the increased interest shown to PERS by European port authorities and encourages all ports within its membership to implement the scheme and receive a certification.