Across-the-board, power supply to cranes and vessels is responding to environmental challenges and leveraging hard earned experience to optimise implementation. John Bensalhia reports
The requirements for extra strength and environmental awareness were two powerful themes that emerged at Transport Events' recent webinar on Advanced Cable Solutions for Electrification and Sustainability.
Jana Blechschmidt, Head of Technical Sales Cranes Export, Prysmian Group, the manufacturer of cables and systems for power transmission and distribution, kicked off the talks by illustrating the capabilities of the company's Protolon cable range. In the case of both the Protolon SMK, the medium voltage reeling cable, and the Protolon SMK 200, a flexible medium voltage reeling cable with integrated fibre-optics for the combined transmission of energy and data, she highlighted their inherent flexibility and the ease via which they can be managed by port operators as well as the robust resistance they offer when working in adverse conditions.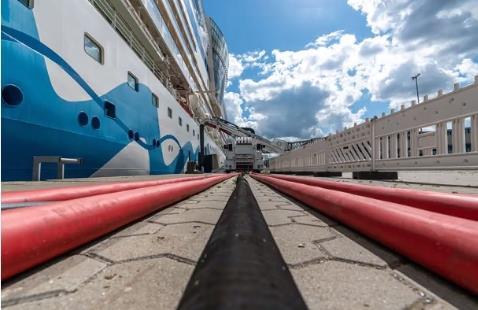 Blechschmidt further pointed out that the company's Protolon SMK HS system is specially designed to accommodate the top travel speeds and high levels of tensile force. "This cable offers outstanding mechanical protection due to further optimisation of insulation giving more room to the extreme robust sheaf system like a buffer keeping mechanical stresses away from the core assembly," she underlined.
Extra strong cables are a must for ports working in freezing conditions.
Using Arctic crane cables as an example, Blechschmidt illustrated how Prysmian's specially developed products used inner and outer sheath material to allow for work in temperatures as low as -50 degrees Celsius. As well as providing strong flexibility in challenging weather conditions, Arctic crane cables have superior resistance to impact, abrasion, water, moisture and UV.
Moderator Anthonie Versluis, Senior Adviser, Maritime Sector, Roland Berger (Malaysia), asked Blechschmidt whether Prysmian allows cable fibre sensors to be added to different cable designs. She responded: "At the moment, we have this technology on the main power supply cables, because they are like the umbilical cords to power up a crane. But over time, there are possibilities that they can be added to other types of cable."
Also discussed was the offering of the total cable system software package. For example, did the software advise the port operator in specific cases to stop or even replace the crane?
Blechschmidt explained that the software covers and measures a number of metrics. "These include the element of deformation of the cable – on all cable lengths and at each position of the cable. This is an indicator of stresses building up on the inside of the cable. Another metric is the time that the cable spends in an elongated state, which, for example, indicates poor quality performance of the cable."
Interestingly, she noted: "What we do with our IQ system is an estimation of fatigue, which is dependent on a number of cycles of the cable – whether operation is 24/7 or five shifts a week.
"Our system software is automatically programmed to calculate all the qualities of the mentioned metrics and puts it in a sort of bookmark in the virtual calendar, explaining what happened, when it happened. This kind of information can be integrated in the crane management system," she said.
ENVIRONMENTAL CONSCIOUSNESS
Both Blechschmidt and Andrea Benedetti, Product Manager – Specialities & OEM (Cranes and Mining), Prysmian Group, gave insights into how Protolon Shore-Connection cables can help the environment.
Benedetti outlined the concept of Shore-Connection as a cable connection as an option that is used to plug-in ships to the main grid during the berthing process. As a result, the ship's engines do not need to run, thus reducing carbon emissions, fuel consumption and noise.
The Protolon (SC) cable was described by Benedetti as an ideal choice for both high and low voltage systems to supply ships with electrical power. While the cable feeds vessels with electricity and digital data, diesel engines can be turned off.
A question put to Benedetti by Versluis concerned the difference in ship classes and power levels. "Different ship classes require different amounts of power," explained Benedetti. "The typical configuration is up to four cables laid in parallel to provide high energy for each ship."
"We can play with different cross sections we have. If power supply needs are lower (i.e. smaller ships), we provide cables with smaller cross sections, or with less copper, so with less amount of current that can be transmitted.
"If the amount of energy is higher, the standard size is ` 185 mm2 . But we can go up to 240 or even 300mm2 . The design concept of the cable is the same, but they will have bigger copper conductors inside. What matters is that we keep the same flexibility of the cable itself," he said.
The focus on environmental matters continued with the presentation given by Georg Franz Matzku, Head of Shore Power/Head of Marketing, Power Collection Business Unit, Stemmann Technik.
Matzku reinforced the concept of providing shoreside electrical power to berthed ships allowing the main and auxiliary engines to be shut down. Examples of cable reel customers given by Matzku include the German Port of Kiel (high voltage); Niedersachsen Ports and Acciona, Spain (low voltage). The cable reels make port operations that much easier, with only one person needed to handle the shore power connection.
The arrangement of cables shore-side was discussed between Matzku and Versluis. Matzku pointed out: "Usually, what we see is that cables are brought from the sub-station underground to a junction box which is either placed on top of, inside, or next to the quay. So, the main problem is the connection between the junction box and any kind of cable management system. This can lay on top of the ground but sometimes this is not possible because you need to run over from left to right of the ground with a forklift or a crane. In this case, there is the chance to use cover plates and lay the cable in a trench if necessary."
An alternative put to Matzku by Versluis in cargo berths was the option of placing the cables at height so, for example, they won't interfere with mobile harbour crane operations.
"We could possibly do this," replied Matzku. "But sometimes we are limited in height as there are cranes and vehicles going back and forth."
It was generally seen as most beneficial for a cable manufacturer to visit a port installing a system to spend time on site to assess the situation and determine the best option. It helps when you go to a site as it makes you realise the situation, i.e., what the infrastructure looks like, the different versions of ships, and different norms.
"For example," Matzku pointed out, "for container ships looking how best to get a cable from a ship down to the ground. Whereas, for offshore support vessels, usually, you bring a double or triple spiral cable reel on top of the ground on shore and hand over the cable, maybe with a crane or lifting device, to the ship."
Georg Matzku summed up the green ethos of cable manufacturers:
"With the world facing "massive ecological problems", what manufacturers must remember is that each port is created differently. "You cannot copy and paste solutions from one port to another. You need to create customised solutions for each berth."
"It's not easy being green, but it's worth it."
VERSATILITY IMPORTANT
The concluding presentation was made by Martin Tiling, Industry Manager, Shore Power, igus.
Tiling followed on from Matzku by discussing the overall context of shore power for specific terminals. In the case of the container terminal, it's about profit and therefore, port operators will be looking to implement highly efficient loading and unloading vessel processes. Furthermore, automation is progressively being looked at as a means of achieving this, reducing costs and increasing margins. Similarly, he noted that, "electrification is happening already – all port equipment is going to be electrified."
Shore power, Tiling emphasised, has to fit into this environment and needs to address these and other big picture factors. There are also key local factors such as site location, wharf, and tidal range. Additionally, he concurred with his fellow presenters noting: "We always have to look at the power consumption of vessels - for example, general cargo vessels consume less power, compared to container vessels. This means less cables or less cross-section. Which means smaller systems."
You cannot copy and paste solutions from one port to another. You need to create customised solutions
Tiling also spoke about the limitations and the best solutions for cable management systems. Prominent among the limitations were connection issues – for instance, the changing positions of cable management systems and limited cable deployment length. Some of the current options to handle this dilemma also present problems. Extension systems can, argued Tiling, add extra work for ports, and in some cases where lack of space is an issue this won't be a viable solution.
Tiling highlighted two key factors that contribute to the best cable management solutions:
Securing good value through a one-time investment delivering a service life of up to 20 years, and
Ensuring full compliance with the relevant standards (for example, the EU Machinery Directive 2006/42/EC) and that the product has a corrosion protection system according to C5-M).
In conclusion, Tiling noted that overall the ideal ship cable management system should offer a high degree of flexibility, be matched to achieve economies of operation, simplicity of connection and uncoupling as well as be specified with new market trends in mind. This, he said, will deliver significant benefits over and above the main environmental benefits secured.