Taylor Celebrates 95th Anniversary The Taylor Group of Companies is pleased to announce that Taylor Machine Works is celebrating 95 years in business.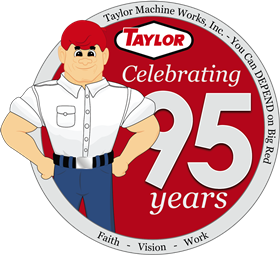 The 1927 garage and machine shop has grown into one of the world's largest American-made privately owned companies. Taylor is a fourth-generation manufacturer that provides engineering, quality workmanship, and services to various industries in material handling across the globe. These industries include, but are not limited to forest products, steel, aluminum, ports, stevedoring, intermodal, inland waterways, concrete and precast, oil and gas, along with warehousing and distribution.
"We are celebrating 2022 as our 95th year in business. What an accomplishment with 1,400 employees strong. As we look back over these 95 years, we celebrate and remember all the men and women that came before us, laying the groundwork for our success," stated W. A. "Lex" Taylor III, Chairman and CEO of the Taylor Group of Companies. "The vision to find a need and fill it with quality products and service is what we have always been about, and we continue to be about it every day," stated Robert Taylor, President and COO of the Taylor Group of Companies.
This anniversary year, the Taylor Group of Companies has 16 companies under its umbrella. This growth shows that Taylor is continually at the forefront of innovation to provide for our customers' needs and to help them succeed.
For more information and news on Taylor Today, visit www.taylorforklifts.com.