Taylor Machine Works, Inc. presented SSA Marine with their 50,000th machine at SSA Oakland, California on Tuesday, August 15th. The XLC-976 had a unique American flag wrap to commemorate this special event.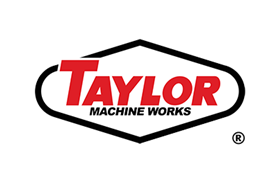 Robert Taylor, Chief Operating Officer of the Taylor Group of Companies, commented, " What a great celebration held today at SSA Oakland as we unveiled our 50,000th machine. SSA has been a loyal Taylor customer for over 40 years and we are very excited to deliver this milestone XLC-976 Container Handler to our SSA family!"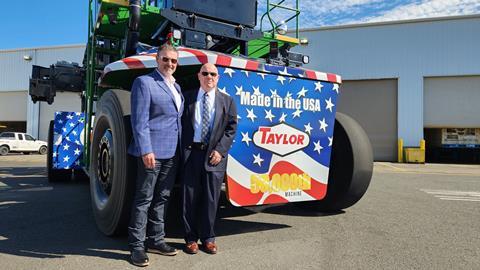 The presentation was made to Edward DeNike, President of SSA Marine and Chief Operating Officer of SSA Terminals while Washington Liftruck's Nancy Lee Smith looked on. Washington LIftruck, a long-time Taylor dealer, assisted in this commemorative event.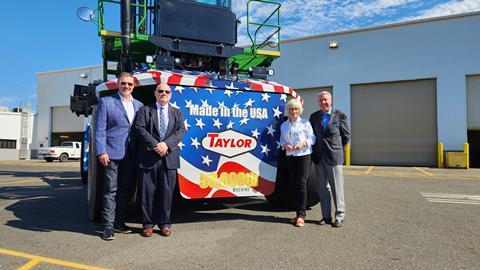 The production of the 50,0000th machine for Taylor was a XLC-976 and offered the DREAM cab, Vision Plus Pedestrian Detection among many other state-of the-art features. Taylor builds over one hundred models of material handling equipment in capacities from 4,000-lbs. to 125,000-lbs. Taylor is working diligently to offer all Taylor models in ZERO emissions configurations and look forward to what the future holds while being grateful to their customer base for allowing them to build 50,000 machines.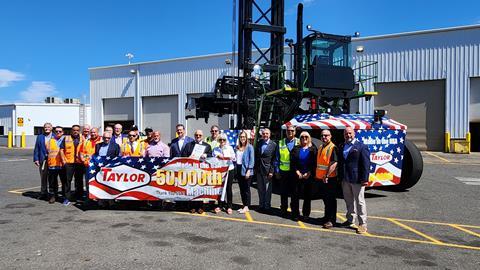 For more information on Taylor Machine Works or the variety of Taylor products, visit taylorbigred.com.