A bulk handling equipment expert has introduced an innovative technology that uses the kinetic energy from a moving conveyor belt to generate enough power to run a wide variety of electronic systems.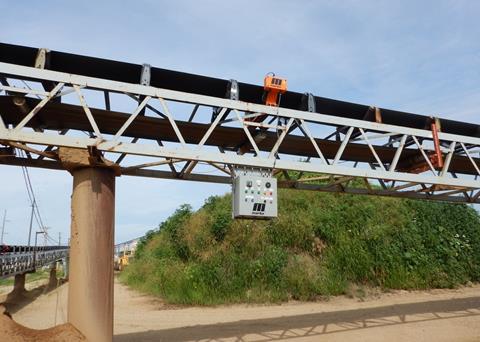 Martin Engineering designed the Martin Roll Gen System to be a first step toward eliminating power production obstacles, as conveyors move into the next generation of "smart systems" that are predicted to be more sustainable and autonomous.
It can be retrofitted on existing idler support structures, so operators are not required to maintain a special stock of conveyor rollers, as the generator can be employed on virtually any steel roller.
Rather than manual monitoring, the system employs sensors to transmit important data from remote points to a central location where it can be monitored in real time and recorded for later analysis.
Being able to add a generator to a roller delivers the benefit of utilising the proven reliability of existing roller designs, while drawing power from the belt for a wide variety of electronic devices through the use of a magnetic coupling that attaches to the end of an existing roller.
This reliable power supply helps bring a new level of sophistication to conveyors, allowing designers to equip their systems with devices such as weigh scales, moisture sensors, lights and even additional safety mechanisms.
Wireless communication can be used to transmit directly to a central controller, giving operators a cost-effective way to access data that has not been readily available in the past and taking another step toward "smarter" conveyor systems.
Martin Engineering, based in the US, is an industry leader in developing and manufacturing flow aids and conveyor products around the world for a wide variety of bulk material applications.
For further technological innovations to improve efficiency, reduce energy consumption and decarbonising your port, book your place at the 2016 GreenPort Congress.
The full programme is available here. Preferential rates are available for participants attending both the GreenPort Cruise Conference and GreenPort Congress and members of supporting associations qualify for special rates. For more information contact the Events team on +44 1329 825335 or email congress@greenport.com.
Follow the event on Twitter @GPCongress.